University of Stuttgart, Germany- Reviews, Ratings & Application Fees (Updated 2019)
University of Stuttgart World Ranking
The University of Stuttgart is one of the leading technically oriented universities in Germany with global significance. It is the centre of university-based, non-university, and industrial research. Adding on further, it takes a role as a guarantor of research-based teaching, focusing on quality and holism.
The University of Stuttgart is a university located in Stuttgart city, Germany (To have a tour of Stuttgart city click here). The Stuttgart -Way means an interdisciplinary integration of engineering, natural sciences, humanities, and social sciences. So as per the name, the university is a combination of all these things mentioned above. It was founded in 1829 and is basically organized into approximately 10 faculties. These 10 faculties include: Automotive Engineering, Aerospace Engineering, Process Engineering, Modelling and Simulation Technologies, New Materials, Complex Systems and Communication, Sustainable Energy Supply and Environment, Mobility, Integrated Product and Production Design, and the Design and Technology of Sustainable Living Spaces and many more. Read here to know why Germany is called The Land of Mechanical Engineers.
Evaluate your profile here to study abroad
University of Stuttgart – World Ranking
The University of Stuttgart made huge contribution towards civil, mechanical, industrial and electrical engineering and automobile engineering. The University of Stuttgart is considered as one of the top nine leading technical universities in Germany (TU9). As of 2017, University of Stuttgart is ranked 79th in the world in the field of Engineering & Technology according to QS World University Rankings.
It has been ranked at the 201 in consecutive years 2016, 2017 and 2018 in the World University Rankings by Times Higher Education
World University Rankings is a vital resource that provides the definitive list of the world's best universities. They look at how often they're producing new ideas, what their reputation is around the world, and how much they're contributing to science and academic fields. After calculating and comparing these criteria, THE ranks the universities accordingly.
In the Academic Ranking of World Universities by Shanghai Jiao Tong University, it was ranked 201 in 2017, 401 in 2016 and 301 in 2015.
ARWU World University rankings is the first world university ranking. It ranks the world's top 1000 colleges and universities based on objective indicator. They look at the number of award-winning (Fields Medals and Nobel Prize) scientists who are located there, how much of their research is cited and referenced around the world, and how much they've contributed to different academic fields. After calculating and comparing these criteria, ARWU ranks the universities accordingly.
In 2018, it was ranked at 441 in the Best Global Universities Rankings by U.S. News & World Report.
Best Global Universities Rankings by U.S. News & World Report presents all the top universities from the U.S. and 60 other countries around the world. They measure the rate of students going to their second year of studies, as well as the rate of students who graduate. It also asks university representatives on the performance of universities, and evaluates university resources, teacher salaries, graduation rates, student academic achievements and satisfaction. After calculating and comparing these criteria, U.S. News ranks the top international universities accordingly.
Campus and Student Life
Stuttgart is very much concerned with the quality of education provided to its students. With this, it also takes care of the accommodation and a culturally rich campus life.Stuttgart has an enriched campus life. Due to it being a campus university, it has been designed in such a way that it has two well connected locations, close to attractive recreation possibilities in the environment and closely integrated cultural life of the city. Also, the university provides the best conditions for studying and working as well as a diversity of job chances for graduates .Residential facilities are also up to the mark in University of Stuttgart. The accommodation consists of lavish apartments and dorm rooms, hostels and more than 20 cafeterias to serve students.
Source- http://www.tu9.de/media/img/unis/Hoersaal_4_web.jpg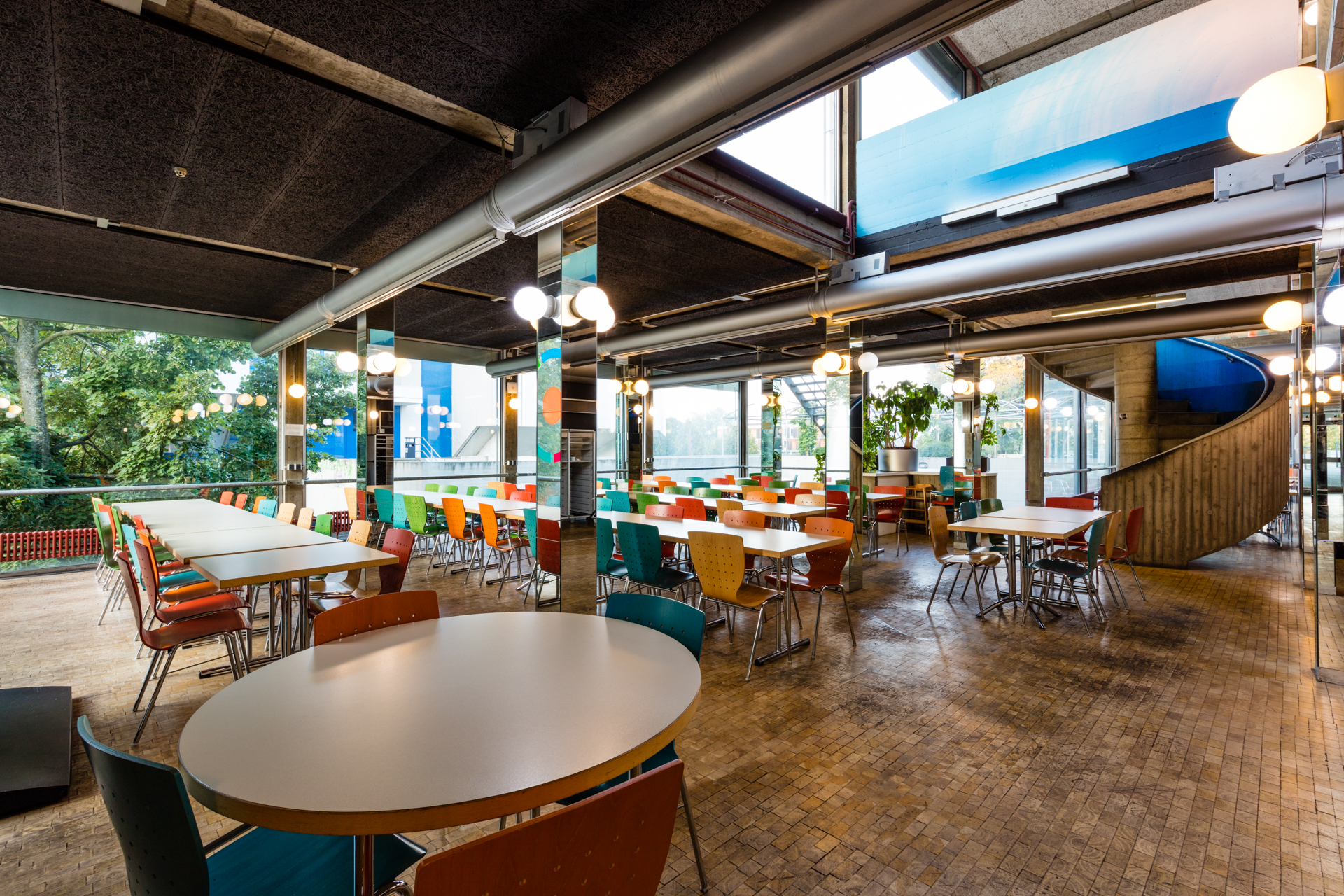 Source- https://www.studierendenwerk-stuttgart.de/
To add on to this, the university provides flexible hours of learning that helps students while studying or is extremely helpful to the ones working during the studies. Also university offers many of the sports and cultural programs that a student can be part of, consisting of various associations and groups of their interest.
University of Stuttgart – List of Courses
The University of Stuttgart, offers around 160 different Bachelor's and Master's study programs, not only in the field of technology, but also in field of art and law and many more. To list down the major courses provided besides technical education are-International Construction Practice and Law course (to obtain specialized legal education to deal with increasing legal issues). Also Stuttgart provides Computational Linguistics, and with that M.Sc. (to provide more in-depth skills in specialized subjects building on the contents of a B.Sc. in Natural Language Processing or a related field).
The University of Stuttgart also includes Bachelors and Master's program in English language because of the heavy demand and huge amount of intake of international students in the University. From this, the University ensures to provide flexibility to the students aspiring to seek education from Stuttgart, simultaneously enabling them to pursue their preferred course in the language they desire or feel comfortable in.
Also, besides masters and bachelors, University of Stuttgart offers advanced quality of PhD. and research programs in all above mentioned fields. Stuttgart university also provides to its students special research program called SUPER- (Stuttgart University Program for Experiencing Research).

The only aim of SUPER is to promote the internationalization of the University of Stuttgart and supports the exchange of scientific information. It also helps in creating new innovations and new ideas, thereby enhancing the new minds of its students and helping them simultaneously shape their future.
Read here, to know about all the 160 courses offered by University of Stuttgart.
University of Stuttgart – Financial Aid and Scholarships
There are different ways to receive financial aid for your studies – either from the Federal government or directly from the University of Stuttgart.
Apart from scholarships, the university aims to provide its students various Stuttgart Student Services emergency loans and Education loans to make materialistic survival bearable. (Check how to afford your study abroad).
Because of the high ranking of the university and materialistic benefits offered by university the applicants ratio is increasing day by day. In 2016-2017 applicants for University of Stuttgart for bachelors degree were 26,000 but only 20% got selected. However, the hiring ratio is 100% and students get employment in whichever field they desire supplemented by a handsome amount of pay.
University of Stuttgart – Alumni
Some of the notable alumina of University of Stuttgart's are: Rudolf Haag, physicist; Wilhelm Maybach, famous German engineer and automobile designer; Gunnar Birkerts, architect and many more. The alumni club is known as the Booster Club.
Rudolf Haag, Physicist

He studied Physics at Technische Hochschule Stuttgart, now the University of Stuttgart, from 1948 to 1954
From 1956 to 1957 he was at Max Planck Institute in Göttingen. After doing one year each as visiting professor at Princeton Universityand University of Marseille, he was professor of physics at the University of Illinois at Urbana-Champaign for six years until 1966.After that and until his retirement he held a chair for theoretical physics at the University of Hamburg. In 1965 he founded the journal Communications in Mathematical Physics, which he guided as Chief Editor for eight years. He was awarded the Max Planck medal in 1970 and the Henri Poincaré Prize of the International Association of Mathematical Physicsin 1997.
Wilhelm Maybach, famous German engineer and automobile designer.
An alumni of The University of Stuttgart by the end of 1885, Maybach with Daimler developed the first of their engines, which is regarded as a precursor to all modern petrol engines.
Gunnar Birkerts, Architect
A Latvian-American architect who, for most of his career, was based in the metropolitan area of Detroit, Michigan.
Some of his designs include the Corning Museum of Glass and the Corning Fire Station in Corning, New York, Marquette Plaza in Minneapolis, Minnesota, the Kemper Museum of Contemporary Art in Kansas City, Missouri, and the U.S. Embassy in Caracas, Venezuela.
In 2014, he designed the National Library of Latvia in Riga, Latvia, aka the Castle of Light, whose architectural form references and draws inspiration from Latvian folklore.
To sum up University of Stuttgart is a modern, achievement-orientated institution with a comprehensive range of subjects and a focus on technical and physical disciplines. High-tech and practical studies go hand in hand here with a cooperative partnership with business. They have close contacts with large and medium-sized industrial and commercial companies. Thus it is a good choice to take into consideration.

Check out review of New York Institute of Technology.
What are your views on Stuttgart? Do let us know in the comments section below. Also, don't forget to mention your suggestions and feedback.