International students looking for a top-notch education in a magnificent natural environment are increasingly choosing New Zealand. New Zealand provides a dynamic and welcoming academic environment and is renowned for its top-notch universities, research opportunities, and multicultural environment.
If you're considering pursuing higher education in this beautiful country, it's essential to understand the application process for universities in New Zealand thoroughly. 
In this step-by-step guide, we'll walk you through the various stages of applying to universities in New Zealand, ensuring you're well-prepared to embark on this exciting educational journey.
So let's get started with a detailed walkthrough of the application procedure for universities in New Zealand and open the doors to an incredible educational journey!
Benefits of Studying in New Zealand
Numerous benefits make studying in New Zealand an attractive option for overseas students. Here are several major advantages:
1. Academic Excellence
Universities in New Zealand are renowned worldwide for their high academic standards and brilliance. You will acquire a top-notch education that will equip you with the abilities and information employers worldwide seek.
2. Diverse range of Programmes
New Zealand provides a wide choice of programmes to accommodate different academic interests, whether you are interested in business, engineering, the arts, sciences, or any other discipline. There are undergraduate, graduate, and research-based programmes that fit your interests and professional goals.
3. World-Class Faculty
Universities in New Zealand are home to brilliant, committed professors who are authorities in their professions. They bring a lot of expertise and experience to the classroom, ensuring you get the best instruction and support possible throughout your academic career.
4. Research Opportunities
New Zealand promotes research and innovation, giving students several chances to work on cutting-edge research projects. This encourages critical thinking, problem-solving abilities, and the opportunity to help improve many professions.
5. Cultural Diversity
New Zealand supports cultural variety and accepts international students. Studying in such a diverse setting broadens your horizons, fosters intercultural understanding, and enriches personal and professional development.
6. Spectacular Natural Beauty
New Zealand is known for its magnificent natural beauty, which includes beautiful coasts and gorgeous landscapes. Your study abroad experience will be even more memorable if you explore and partake in outdoor activities like hiking, skiing, and water sports outside the classroom.
Study in New Zealand
know the chance of admit

at your dream university with

our course finder
Study in New Zealand
know the chance of admit at your dream university with our course finder
Choosing the Right University Based on Your Interests and Goals
When selecting a university in New Zealand, keep the following things in mind:
1. Programme Offerings
Seek colleges with programmes that fit your academic interests and long-term professional objectives. Think about each institution's reputation and advantages in your selected subject of study.
2. Rankings and Reputation
Review university rankings and reputations to evaluate their academic status and the kind of education they offer. Remember that rankings shouldn't be the only criterion, although they can provide information.
3. Location and Campus
Consider the area and university atmosphere that best fits your tastes. Consider your lifestyle, cultural preferences, and closeness to prospective internship or career possibilities when choosing a university in New Zealand because both campuses are in bustling cities and tucked away in picturesque areas.
4. Research Opportunities
Investigate institutions renowned for their research facilities and programmes if you are interested in conducting research. Look into the study topics and initiatives that fit with your scholarly preferences.
Understanding Admission Requirements
Understanding the admission requirements is crucial for successfully applying to New Zealand institutions.
Although particular admission requirements may differ between colleges and programmes, the following broad factors are often taken into account:
1. Educational Qualifications
Generally, applicants must have finished their secondary education or have a qualification that New Zealand institutions recognize as equivalent.
2. Academic Prerequisites
New Zealand's universities may have specific academic prerequisites, such as a minimum Grade Point Average (GPA) or requirements for particular subjects for some programmes. Checking the precise prerequisites of each university and programme you are interested in is crucial.
3. Language Proficiency
Since English is the primary language of instruction in New Zealand, proving English language competency is essential. International students could be required to submit proof of their English language competency through IELTS, TOEFL, or other reputable English language exams.
4. Visa Requirements
International students must comply with Immigration New Zealand's visa requirements. This can entail presenting documentation for your financial stability, health insurance, and current passport.
Information on Academic Prerequisites in Detail
For the application process for universities in New Zealand each have different academic requirements. Typical prerequisites include:
1. GPA
University admissions policies frequently include a minimum GPA requirement. Depending on the programme and level of study, a different GPA may be required.
2. Subject Requirements
Some programmes may have particular topic requirements. Engineering programmes, for instance, may demand prior study in maths and physics, whereas arts programmes may require language or social science skills.
3. Recognition of Prior Learning
For admission to specific programmes, particularly postgraduate degrees, universities may consider past learning and job experience. It could be necessary to provide supporting paperwork and verification of credentials or expertise.
Step-by-Step Breakdown of the Application Timeline
Application Process
Follow these general guidelines to guarantee a smooth application process:
1. Research Phase (12-18 Months Before Intended Enrollment)
Start looking at colleges, courses, and entrance standards.
Take into account elements including location, cost of living, and academic options.
Create a short list of colleges depending on your tastes and objectives.
2. Prepare Required Documents (6-12 Months Before Intended Enrollment)
Collect the required papers, including academic records, recommendation letters, and results of language tests.
Ensure your papers are in order and, if necessary, appropriately certified or translated by the university's criteria.
3. Standardised Tests (6-12 Months Before Intended Enrollment)
Take standardised examinations for English language competency, such as the TOEFL, IELTS, or ACT.
Give yourself enough time to study for these tests and get your results before application deadlines.
4. Application Submission (6-9 Months Before Intended Enrollment)
Create an account on the university's online site to start the application process.
Fill out the application completely, including all pertinent details.
Send in any necessary paperwork, such as transcripts, test results, essays, or personal statements.
5. Scholarship Applications (Varies)
Find out about and apply for scholarships from institutions, governmental agencies, or outside organisations.
Pay attention to the deadlines for applying for scholarships since they may differ from those for regular applications.
6. Visa Application (3-6 Months Before Intended Enrollment)
Start applying for a visa as soon as you obtain an admissions offer.
Examine the visa criteria, collect the required paperwork, and correctly complete the application.
Give yourself enough time to process the visa, considering any appointments you may need for biometric or medical testing.
Important Deadlines
Throughout the application process, meeting deadlines is essential. You should be aware of the following deadlines:
1. Application Deadlines
Early admission and regular admission dates are determined by each university independently. For precise dates, consult the university's website, then submit your application by the cutoff time.
2. Scholarship Deadlines
There may be a range of deadlines. Find out the deadlines for the scholarships you want to apply for, make a note of them, and be sure you submit your applications on time.
3. Visa Application Deadlines
You should begin the visa application procedure as soon as you get an admissions offer. For information on deadlines for visa applications, see the Immigration New Zealand website. Make sure you submit your application by the deadline.
Detailed List of Documents Required for the Application
The following list contains often required documents, while particular document needs may differ between colleges and programmes:
1. Academic Transcripts
Certified records of your academic performance and grades from your high school or earlier postsecondary study.
2. Degree Certificates
Please submit copies of your degree certificates or diplomas if you have earned a degree or any other higher education credential.
3. Language Proficiency Test Scores
Include official test results from examinations like the IELTS, TOEFL, or other recognised language competence assessments if English is not your first language.
4. Letters of Recommendation
Obtain letters of recommendation from instructors, professors, or other experts who can attest to your academic prowess, moral integrity, or relevant experiences.
5. Resume/Curriculum Vitae
Prepare a detailed resume or curriculum vitae highlighting your educational background, professional experience, extracurricular activities, accomplishments, and applicable abilities.
6. Personal Statement or Statement of Purpose
Write a persuasive essay outlining your motivations, academic objectives, professional aspirations, and how the selected programme or university fits your interests and plans. This is known as a personal statement or statement of purpose.
7. Portfolio
Include a portfolio exhibiting your artistic or design work when applying to creative arts, design, or architecture programs.
8. Payment of the application fee
Some colleges may charge a fee. Verify that, if required, you have the resources to make the payment.
Application Submission Process
The application submission procedure varies from institution to university. However, the following techniques are frequently employed:
1. Online application portals
Most colleges provide online application portals where you can register, complete the application form, and electronically upload your supporting papers. This approach is practical and enables prompt and effective submission.
2. Applications by mail
Some colleges could still accept applications by mail. In this situation, you would have to print off the application form, hand-fill it out, and submit it with your supporting documentation. Be careful you adhere to the university's guidelines for mailing addresses and any unique formatting demands for documents.
Visa Application Process
Process of applying for a Visa
The following steps are normally involved in the application process for a student visa to New Zealand:
1. Confirm Acceptance and Receive the Offer
You must have received an offer of admission from a New Zealand educational institution before applying for a student visa.
2. Gather the Required Documents
Gather all the paperwork you'll need to apply for a visa. These may consist of:
A passport must be valid for at least three months beyond the period of time you want to spend in New Zealand.
Provide the formal offer letter from the New Zealand educational institution as proof of your acceptance.
Provide evidence that you have enough money to pay for your tuition, living costs, and round-trip transportation.
For the length of your trip to New Zealand, be sure you have complete health and travel insurance coverage.
Police clearance certificates from the appropriate authorities in your native country are required as proof of character.
The student visa application form is accessible on the Immigration New Zealand website. Fill it out completely and sign it.
3. Pay the Application Fee
Visit the Immigration New Zealand website to view the current visa application charge. Make sure you pay the charge with one of the recognised means of payment.
4. Submit the Application
Use the website of Immigration New Zealand to submit your visa application. Upload each of the necessary files as listed in the application form.
5. Biometrics and Medical Exams
You can be asked to give biometrics (fingerprints and a picture) and go through a medical exam, depending on your nationality and anticipated length of stay. Observe the guidance given by Immigration New Zealand.
6. Wait for Processing
After submitting your application, give the visa processing time it needs. It is advised to apply well in advance of your chosen trip dates because processing times might vary.
Guidance on Preparing for Visa Interviews
Attendance of a visa interview may occasionally be required of students. As you get ready, consider the following advice:
1. Familiarise Yourself with the Process
Learn about the visa interview procedure for your nation and review any instructions or guidelines on the Immigration New Zealand website.
2. Review Your Application
Before the interview, carefully go through your visa application and accompanying paperwork. Be ready to go into depth about your academic plans, capacity to pay for school, and links to your native country.
3. Practice and Rehearse
Prepare by practising your responses to likely interview questions. Expect inquiries about the programme you've selected, the university you attend, your professional aims, and how studying in New Zealand fits into those plans.
4. Be Calm, Confident, and Honest
Throughout the interview, maintain these qualities. Provide any extra information the interviewer requires and respond to all the questions.
5. Dress Professionally
Prepare for the interview by dressing correctly. To project seriousness and preparation, conduct oneself professionally.
6. Bring Supporting Documents
Carry copies of all the supporting documentation you filed with your visa application. These might consist of your acceptance offer, financial documentation, verification of your health insurance, and other supporting records.
Embracing the Opportunities – A Quick Synopsis to Your Journey
This comprehensive guide has given helpful insights into applying to institutions in New Zealand. It is essential to get started as soon as possible, to ask for help when necessary, and to follow each step carefully.
The advantages of studying in New Zealand, such as academic quality and cultural discovery, make it a fascinating prospect. Do extensive study, comprehend admission standards, and submit applications well in advance of deadlines. 
Don't forget to acquire all required paperwork, pay attention to visa requirements, and always be organised.
Click here to know more about the Application Process for Universities in New Zealand!
coursefinder
know the chance of admit

at your dream university with

our course finder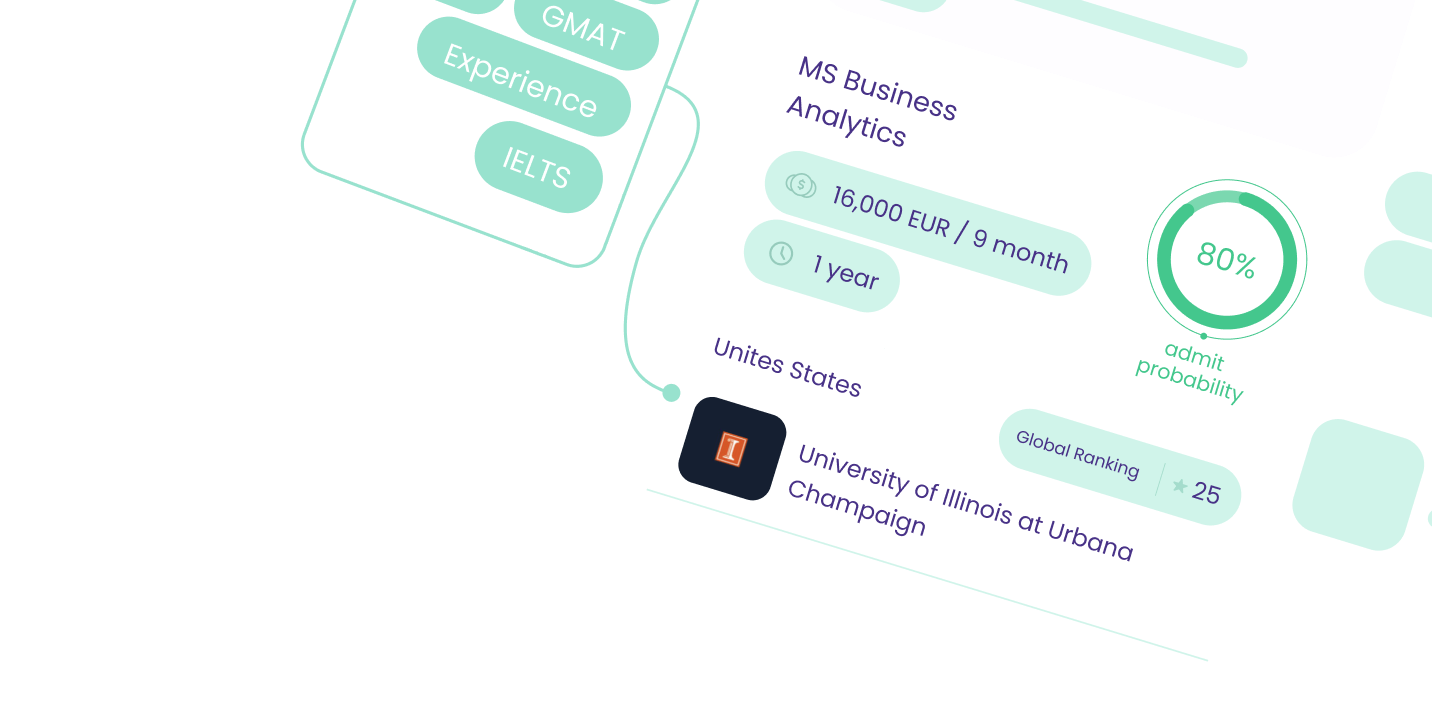 coursefinder
know the chance of admit

at your dream university

with our

course finder
Frequently Asked Questions
Q. How long does it take to process a visa?
The time it takes to obtain a visa might vary, so it's best to apply well in advance—typically 1-3 months before the anticipated departure date to give yourself enough time.
Q. Can I work while I'm a student in New Zealand?
Yes, international students are permitted to work part-time (up to 20 hours per week) throughout the academic year and full-time during specified breaks.
Q. How can I keep up with news and announcements from the university?
To obtain updates on deadlines, events, and significant announcements, stay in touch with colleges through their official websites, social media accounts, and mailing lists.