Explore the allure of Denmark for your abroad studies.
The best part? You'll discover how Denmark's education system offers world-class programs, vibrant international communities, and numerous opportunities for personal and professional growth.
If you dream of immersing yourself in a progressive and innovative learning environment while experiencing the charm of Scandinavian culture, then this guide is for you.
Ready to embark on a life-changing academic journey? Let's delve into the captivating reasons why Denmark should be your ultimate choice for studying abroad.
Denmark – A Leading Study Abroad Destination
Denmark for your abroad studies, a country in Northern Europe, is one of the most popular places to study abroad for a variety of compelling reasons. With a reputation for quality and a forward-thinking, progressive approach to education, the nation has drawn students from all over the world.
Danish educational institutions typically place highly on global education indices and provide a wide variety of programs tailored to students' different academic interests.
Reasons to Choose Denmark for Your Abroad Studies
1. Academic Excellence in Denmark
Denmark, a mesmerising Scandinavian country renowned for its magnificent scenery and cultural gems, is a shining example of academic success.
Denmark has fostered a long-standing culture that places knowledge and learning at the centre of its society, demonstrating an unshakeable dedication to education and research.
1.1 World-Renowned Institutions
Denmark for your abroad studies' world-renowned universities and research institutes are the foundation of its academic excellence. Institutions like the prestigious University of Copenhagen, Aarhus University, and the Technical University of Denmark are leading the effort because they draw students from all over the world.
These colleges provide top-notch education and are outfitted with state-of-the-art facilities and knowledgeable teachers. They have a wide variety of courses available across many different fields.
1.2 Ascending Global Rankings
Denmark routinely achieves high scores in worldwide education tests and rankings, which is a tribute to its commitment to upholding high levels of learning. The Danish educational system promotes an active and engaging learning environment by placing equal emphasis on academic knowledge and practical application.
It enables pupils to develop as forward-thinking global citizens by fostering critical thinking, creativity, and collaboration abilities.
1.3 Investment in Research and Development
The dedication of Denmark to academic excellence extends beyond the boundaries of its institutions. Government spending on research and development encourages innovation and ground-breaking findings. This backing strengthens Denmark as a hub for intellectual development and technological improvement.
1.4 Holistic Student Development
The Danish educational system emphasises overall development and goes beyond only imparting information. In order to foster a feeling of purpose beyond the classroom, students are encouraged to pursue their hobbies and interests.
1.5 Attracting Ambitious Scholars
Ambitious students worldwide are lured to Denmark by the promise of a top-notch education and a life-changing learning experience. International students find a second home in this multicultural, academically challenging atmosphere that celebrates variety and promotes cross-cultural interaction.
2. Diverse Range of Programs

Denmark for your abroad studies' dedication to academic achievement is complimented by a wide variety of study options that may accommodate a variety of interests and career aspirations.
Whatever level of education a student seeks for undergraduate, graduate, or doctoral studies, Denmark provides a wealth of chances for intellectual expansion and self-improvement.
2.1 English-Taught Programs
Study programmes in English are readily available in Denmark, demonstrating the country's commitment to diversity and international outreach. Numerous institutions in Denmark provide extensive English-taught courses in various fields because they understand how important it is to draw in foreign talent.
This provision makes it possible for students worldwide to pursue their academic goals in a welcoming and linguistically conducive atmosphere.
2.2 Undergraduate Programs
Denmark offers undergraduate students a diverse educational experience that lays a solid foundation for success in the future. Undergraduate programmes blend academic knowledge with real-world applications, enabling students to exercise critical thought and develop problem-solving abilities.
Students have the chance to explore their hobbies and uncover new interests because of the variety of courses offered in disciplines, including business, engineering, humanities, social sciences, and natural sciences.
2.3 Postgraduate Programs
The postgraduate programmes available in Denmark are designed with the needs of students in mind. Master's degree programmes are intended to go further into particular topics and provide students with improved knowledge and research abilities.
2.4 Doctoral Programs
Denmark's doctoral programmes offer an excellent setting for future scholars and researchers to pursue cutting-edge research and give back to the global academic community. In order to stimulate innovation and push the limits of knowledge in their respective domains, doctoral candidates collaborate closely with renowned academics and participate in interdisciplinary research.
2.5 Niche Fields and Unique Programs
Denmark stands out as a study-abroad destination because it provides special programmes and specialised academic subjects. With a strong emphasis on green technology, environmental research, and sustainable development, Denmark has emerged as a leader in solving global climate change and sustainability issues.
A creative and inventive environment is promoted through the nation's outstanding design, architecture, and urban planning programs.
3. Research and Innovation Opportunities
The unshakable dedication of Denmark for your abroad studies to academic success is reflected in its high emphasis on research and innovation. The country takes pride in fostering a thriving research culture that inspires students to work on ground-breaking initiatives, push the limits of knowledge, and tackle real-world problems.
3.1 Universities, Research Institutions, and Industries
Collaboration between academic institutions, research organisations, and businesses is essential to Denmark's research ecosystem. Thanks to this integrated approach, students have many possibilities to take part in research projects that have practical implications.
Collaborations with well-known businesses and organisations provide students with priceless experiences, expose them to problems in the real world, and help them develop a profound grasp of how research can advance society.
3.2 Engaging in Ground-breaking Research Projects
Denmark encourages students to participate in research initiatives throughout their academic careers actively. Undergraduate students frequently participate in research projects, which enables them to cultivate vital research skills and a love of inquiry.
Students have the opportunity to dig further into specialised topics as they advance to postgraduate and doctorate levels, contributing to cutting-edge research that defines the future of their particular disciplines.
3.3 A Hub for Innovation and Entrepreneurship
The dynamic innovation ecosystem in Denmark provides an ideal environment for creative entrepreneurs to thrive. The nation has developed a reputation as a hotbed for innovation, with a large number of startups and technology-based businesses making their way onto the international scene.
Students learn about creative concepts and entrepreneurial endeavours directly as they work on research projects and cooperate with businesses. 
3.4 Advancing Research for Societal Progress
With a focus on pressing issues in fields including sustainability, healthcare, renewable energy, and technology, Denmark's research and innovation initiatives influence the whole world.
Academic institutions, research facilities, and businesses work together to foster and execute creative ideas in a dynamic setting.
4. Student-Friendly Environment
International students looking for a life-changing educational experience are welcome in Denmark for your abroad studies because of its warm hospitality and friendly culture. Students are welcomed by a caring community and a wealth of tools to promote their academic and personal success from the time they step foot in the nation.
4.1 Seamless Integration
The extensive usage of English is one of the main aspects contributing to Denmark's attraction to international students. The majority of Danes speak English fluently, and universities provide an extensive range of English-taught programmes, making it simple for international students to integrate into academic life without facing any language obstacles.
The English-speaking population makes the transition easier and helps students feel comfortable in their new surroundings right away.
4.2 Extensive Support Services
The well-being of its students is highly valued in Denmark, which provides a wide range of support services to guarantee a fruitful and satisfying experience. The international offices of universities help students with everything from admissions and visa requirements to housing and cultural acculturation.
As students negotiate their academic journey in a new nation, these support services provide a solid anchor and safety net.
4.3 Affordable Healthcare
The healthcare system in Denmark is famous for its openness and superior offerings. The nation's healthcare services are available to visiting international students.
This makes it possible for students to put their health and well-being first without experiencing financial hardship, promoting a stress-free atmosphere for study and personal development.
4.4 Ensuring a Secure Environment
Denmark routinely ranks among the safest nations in the world, giving students and their families peace of mind. The steps taken to safeguard both citizens and visitors demonstrate the country's dedication to safety.
Students should feel secure knowing that their safety is a primary priority whether on campus or visiting the attractive streets of Danish cities.
4.5 Cultural Richness
Danish society accepts individuals from all origins and promotes variety, making it the perfect setting for international students. Due to the possibility for students to connect with individuals from many cultures, which broadens their ideas and helps them develop lifetime friendships, this cultural diversity produces an enjoyable experience.
5. Cultural Enrichment and Lifestyle
Danish culture offers international students a unique experience for your abroad studies by weaving a tapestry of history, arts, and customs. Students experience a dynamic way of life while immersed in a place rich in history and modernity, striking the ideal mix between academic endeavours and casual excursions.
6. Tuition Fees, Scholarships, and Financial Aid
6.1 Cost of Education
Denmark's tuition costs are reasonable compared to other well-liked study-abroad locations, such as the United States or the United Kingdom. Many Danish colleges provide free tuition for students from the EU/EEA and, in certain circumstances, from other nations.
There are tuition costs, albeit often cheaper than those in other Western nations, for students who are not EU/EEA citizens. 
6.2 Living Expenses
Denmark is renowned for having a good level of living, although places like Copenhagen may be rather pricey. However, there are ways to control expenses via careful planning and budgeting.
Many students choose to live on campus because it might be more economical than renting a home privately and because they can benefit from student discounts on travel, dining, and cultural activities.
6.3 Scholarships, Grants, and Financial Aid
The Ministry of Higher Education and Science's Danish Government Scholarships for Non-EU/EEA Students offers partial or full tuition price exemptions and frequently include a monthly living stipend.
Many institutions also provide scholarships to deserving students to recognise their achievements in the classroom and community service.
6.4 Work Permit Regulations
International students in Denmark have the option to work part-time while they are enrolled in classes to help them financially. Students can work up to 20 hours per week and full-time during semester breaks with a student visa or a resident permit.
This rule makes it easier for students to budget their living expenditures and gives them a chance to build their resumes and earn valuable real-world experience.
Looking for Scholarships ?
Let's help you secure

the best scholarship to fund your

study abroad journey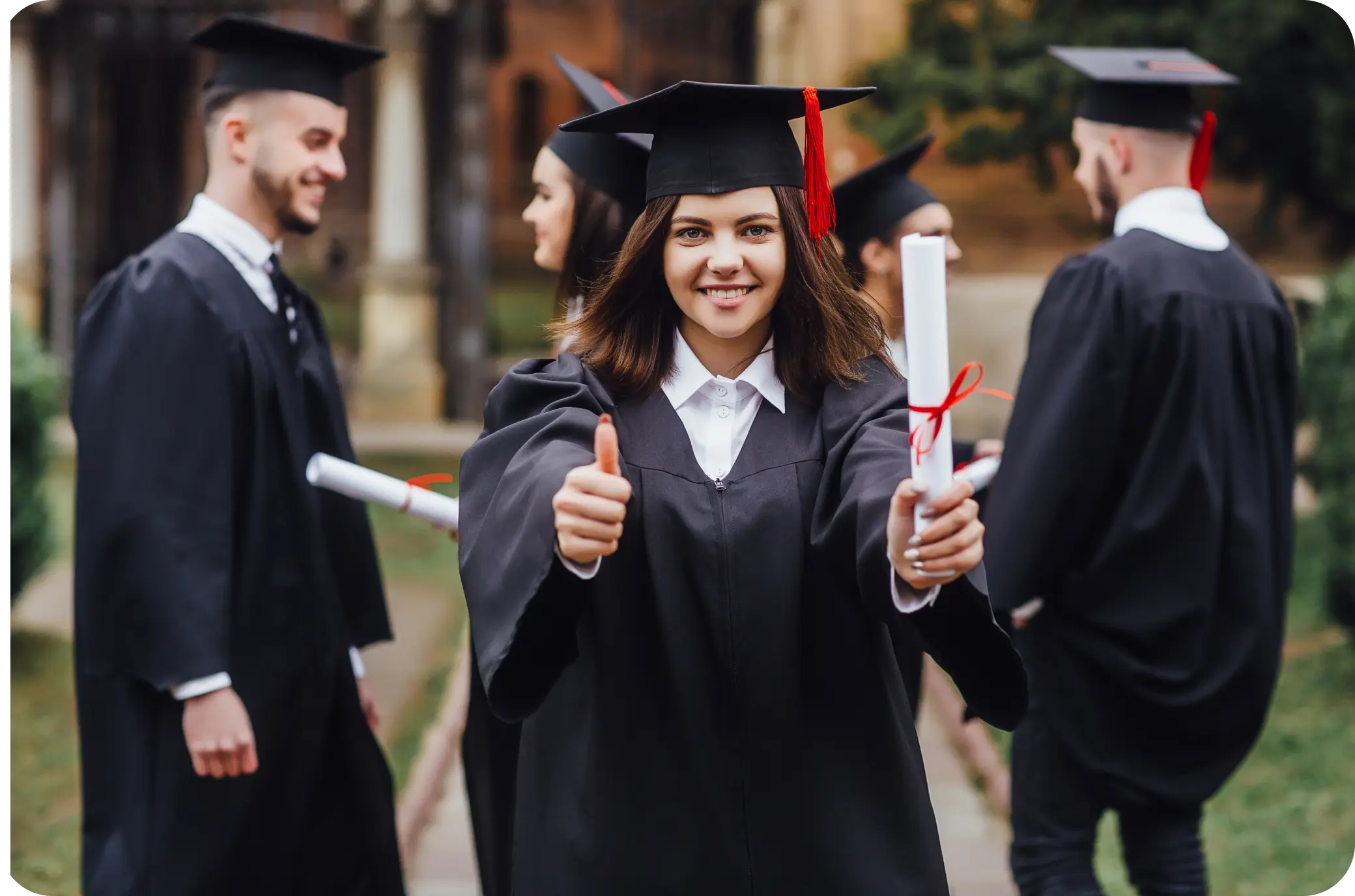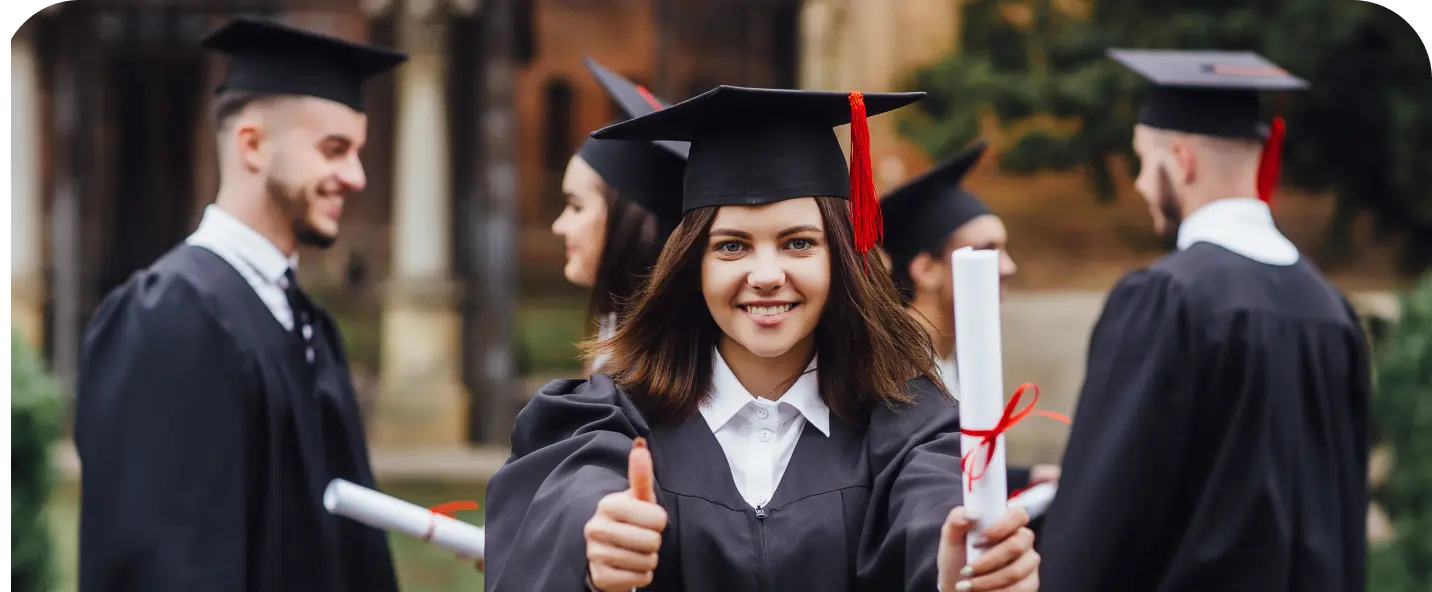 Looking for Scholarships ?
Let's help you secure

the best scholarship to fund your

study abroad journey
Embracing Excellence and Enrichment in Denmark!
Denmark for your abroad studies emerges as a shining star on the global stage. Its exceptional education system, welcoming international communities, and unparalleled opportunities for personal development make it an ideal destination for ambitious students like you.
By choosing to study in Denmark, you open the door to a world of knowledge, cultural richness, and life-changing experiences.
At Admitkard, we understand the significance of finding the perfect academic path abroad. Our team of experts is dedicated to guiding you every step of the way, ensuring a seamless journey towards your dream education in Denmark.
From admissions assistance to personalised study abroad support, we're here to make your aspirations a reality.
So, if you're ready to embark on this transformative adventure and unlock your full potential, reach out to Admitkard today.
Let us help you shape a brilliant future filled with growth and success. Your educational dreams in Denmark await—take the first step now!
coursefinder
know the chance of admit

at your dream university with

our course finder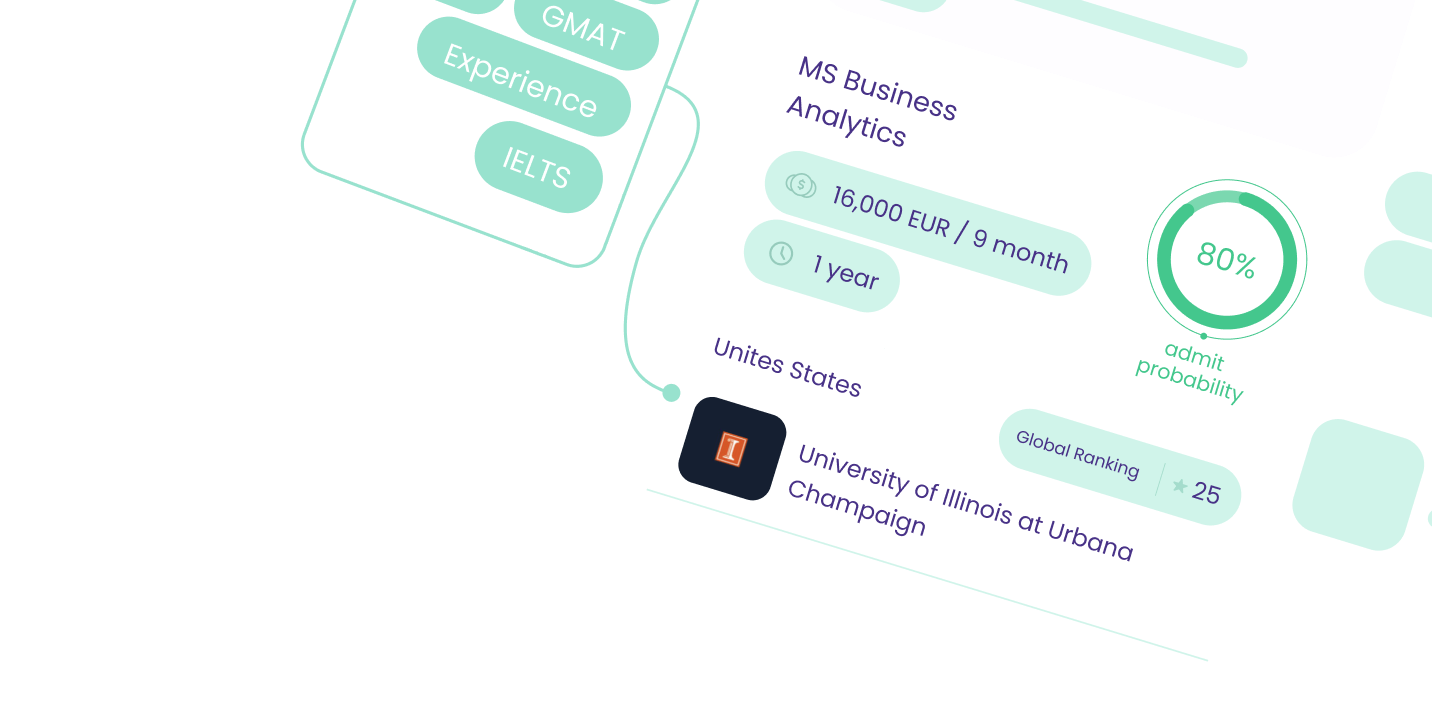 coursefinder
know the chance of admit

at your dream university

with our

course finder
Frequently Asked Questions
Will going to school in Denmark change your life?
Definitely! Students should expect to transform as a result of Denmark's distinctive fusion of education, culture, and lifestyle.
Can I work part-time in Denmark while I'm a student?
International students who want to gain experience can work up to 20 hours per week while studying.
Are there any programmes that teach English?
To accommodate international students, several institutions in Denmark provide a variety of English-taught programmes.
How does Denmark honour its cultural heritage?
Denmark showcases its rich cultural legacy by holding a number of festivals and events throughout the year.