For most students who dream of studying abroad, finances and funds to support their studies and living abroad, in countries such as USA, UK, Canada, Australia, etc become troublesome. In fact, there are students who may or may not need scholarships for financial reasons, but owing it to their stellar student profile and extracurricular abilities, they get shortlisted for scholarships. Thus, whichever category you are in, scholarships can be a major boost for you, both academically and financially. Here's a Guide to Study Abroad Scholarships for International Students.
How Do Scholarships Affect Your Application?
Top 10 Study Abroad Scholarships
A scholarship is a grant or financial support a student's education, generally based on academic achievements and records. It is a kind of encouragement as well as an aid for students. In fact, most of the scholarship-seekers are international students. Not only because of the need but due to their capabilities as well. However, these scholarships have a lot of competition too. You need to be absolutely worthy, to be selected for a scholarship.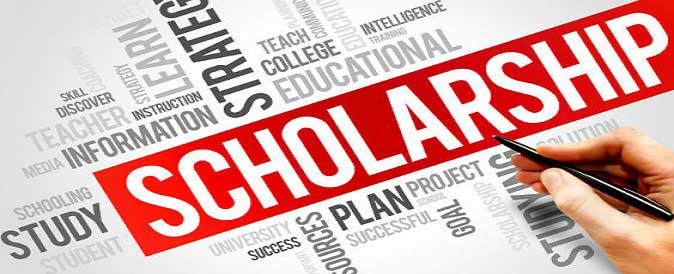 Top 10 study abroad scholarships for Indian students are-
How to Apply for Scholarship?
Before you apply for scholarships, you need to do the following.
Research: You first need to research in detail about the different types of scholarships offers in the country as well as the university you are going to. Search for scholarships on the basis of location, university, student background,government-funded,state-funded or private ones, program-specific and even subject-specific scholarships.
Check for Eligibility: Make a list of scholarships that suit your profile and setting. Then, thoroughly check out their eligibility and requirement details and prepare your profile accordingly.
Resume: Now that you know what and how you can be in the race to get the scholarship, you now need to design your resume in a manner so much so that it steers your scholarship application through the sea of applications.
References: In order to apply for a scholarship and get one, you need a list of references that vouch for your credibility. These references could have a personal, academic or a professional background.
Deadlines: Once you have everything prepared, get on to completing the application, well in advance and much before the deadline approaches. Since you will be applying for a number of scholarships, it is better to file and submit an application in advance, so as to not miss the deadline and regret later.
Now, to apply for study abroad scholarships, the procedure is as follows-
File an Application– You will need to file a scholarship application for each and every scholarship you wish to obtain. For that, go to the registration website for each scholarship and register. The application must be filled without errors, should make a great impression on the reader and should include well-thought of references.
Upload the Documents– You will also be required to send in your academic record in the form of transcriptions, study plans or the course you are applying to and the careers you wish to pursue and why, list of references, financial and funding documents.
Attach the Scholarship Essay– This essay should weave out a story from your life and list out what and why makes your eligible and suitable for the scholarship.
Submit the Application– Once you are done with the above-mentioned steps, you just need to submit the application form and wait for the selected students' list to come out.
MS in Canada- Fee and Scholarships
Documents for Scholarship Application
You need to submit the following documents along with your scholarship application.
Proof of Nationality– Must be a citizen of India ( for Indian students only), and should have a valid passport.
Education- For some scholarships like the Ratan Tata Scholarship, the student should have attended secondary school in India and must have an admission offer as an undergraduate/ postgraduate student in a foreign university.
Basis of Scholarship– In most cases, the student should be eligible for Need-based Financial Aid.
Worth- The student must have an excellent academic record, so as to be worthy of being selected for the scholarship
Resume- A resume that includes all educational and work details of the applicant.
References– A list of references who vouch for your credibility.
Scholarship Essay– An essay more like a statement of purpose that talks about your journey and how you are worthy of the scholarship and how you would make use of the scholarship.
Undergraduate Scholarships in Canada
Scholarships for Study in USA
Almost all of the courses in the USA, be it for graduation or post graduation, estimate to high costs, including tuition, living and transport expenses. So, if you obtain a scholarship, which may either cover the whole or at least a significant part of your study costs, then that's a blessing to count on. The list of the study scholarships in the US is given below-
Avvo Scholarship Program
Scholarships for Study in Canada
The study in Canada, in comparison to the US and UK, might be comparatively more affordable, however, the leading Canadian universities too have a hefty fee structure. Therefore, these are the scholarships you must know about before you plan your study in Canada.
Scholarships for Study in Australia
Just like America, Australian universities and their courses, mostly postgraduate courses such as the MBA, are not so affordable for all. Thus, here is a list of scholarships you ought to apply for, in order to reap the scholarship benefits.
Endeavour Postgraduate Scholarship Awards
Flinders International Postgraduate Scholarships
Scholarships for Study in Germany
Unlike the countries mentioned above, education from German universities is the most affordable of all. However, for courses that are not absolutely free, a scholarship offer can work as a great compliment. So much so, that it can help you receive education in Germany for free. Here is a list of German scholarships for international students.
Heinrich Boll Scholarships
How Michael Brown Got 20 Scholarship Offers?
To sum up, all students wishing to study abroad can find a solution to their financial woes in, scholarships and grants. These funds included the university's tuition fees and living expenses of the student. Thus, to be eligible to enjoy the scholarship, you need to apply in and get selected for one, for which you need to meet the eligibility as well as the deadlines.