To study abroad for post-graduation, a student needs to submit a number of documents. An SOP for MS in Data Science is one of the important documents that are to be taken care of.
An SOP is an essay that the students have to write defining their ambitions and motivations to study in a particular university. Universities expect students to be creative and unique and analyze their personality through the SOP.
A student interested in pursuing MS in Data Science has to write an SOP describing their interest in the course and what motivates them to build a good career in this field.
SOP For Data Science
A well-written SOP is important for your admission in universities abroad. The admission commission investigates every aspect of the student application, where the academic information including other documents are objective and SOP, on the other hand, is a subjective aspect of the student application. Moreover, It is the only document in the application process that gives a chance for students to prove that they are different from others and how they stand out from the crowd. Admissions of the students are highly dependent on the statement of purpose they write.

The students who pursue an MS in Data Science learn to build the systems which handle data. SOP plays an important role in your admission process for MS in data science, hence, the students must write SOP for data science carefully and follow the format to avoid any mistakes.

It is necessary for the students to be cautious with the word count limit of an SOP. Mostly, the universities set out the word count for SOP, however, the standard word count is 500 to 1,000 words. In case, the university for which you are applying has not specified the word limit, then you can keep the word count of your SOP maximum up to 1,000 words or write two A4 size pages of SOP.

The candidates must choose a professional font that is easily readable. Suggested font styles are Times, Helvetica, Arial, and Times New Roman and it is good to keep the font size maximum of 12.

The SOP is required to understand the seriousness of the candidate towards his/her career and the course he/she has applied for. Not only that but how experienced and knowledgeable the candidate is or reasons for joining that particular institution.

Things To mention In SOP for Data Science
A strong reason for choosing data science as a subject.
Reason for choosing that particular institution and its region.
Academic Performance
Write about your life experience as a student or as an employee.
If you are already experienced, mention the other skills and knowledge that you want to obtain.
Write about your future plans.
How the course would assist you in achieving your future goals.
Data Science Statement Of Purpose PDF
Download this in PDF now (Click Here)
"Data is a precious thing and will last longer than the systems themselves."
-Tim Berners-Lee

Computers and information technology play an important role in human lives as we proceed further into the twenty-first century. Every new research gives us hope to shape our future in the most powerful manner. In college, I was surprised to know how Data Science and analysis are related to the effective functioning of business processes in every field. I have chosen a Master's degree in Data Science program to acquire deep knowledge of all the areas and parts of technology that encompasses Data Science. It is a great opportunity for me to study at your university as I believe that it can provide me with a comprehensive learning opportunity and skills that are required for a successful profession in Data Science.

I finished my Bachelor of Computer Engineering in 2017 from IIT, Mumbai. They were splendid 4 years of my academic life where I experienced the most challenging and memorable times. The program's inflexible curriculum was planned and challenging enough to bring out the best in me at college. I enjoyed studying subjects such as electricity and magnetism, computer programming and utilization, Data analysis and Algorithms. I worked for a project titled'……………………………………………………' in the final year of college. The aim of the venture was to ……… My proposals, for example, ..… worked and helped in the effective completion of the project. I received high grades as a result of the project and the professors appreciated me. I took part in numerous banner productions during the four years. One of them was ….… which helped me procure the main prize. Finally, in the last year, I went for many interviews and among them, I was delegated as a Junior Data Engineer in Intel, India.

At Intel, India, I worked on a project for .….… in the initial year. During the course of this project, I was responsible for ……… Right after I completed one year in Intel, I was promoted to the post of Assistant Data Engineer and my responsibilities were increased. I was excited to take up the challenges pertaining to this role and I always made an extra effort to receive good feedback from my seniors. In 2019, I contributed to one of the e-commerce projects in which I realised the true potential of Data Science and Analytics. My interest in this field has always increased throughout learning and it motivates me to seek greater knowledge in advanced studies in this field. While working in the Intel, consistent up-gradation of knowledge through regular reading, interaction with the management, and experienced faculty in this field, have added to my professional growth. I completed a certificate course in Software Development-Big Data from Upgrad, India, in 2019. It was genuinely invigorating and a great experience and is one of the triggering moments for my motivation for advanced studies.

It gives me immense joy to tell you that I am a state-level chess player and I have bagged a gold medal in the district-level chess competition for the Mumbai district, India which was held in 2014.

Aspirations:
Presently, I look forward to building my career in Data Analytics that will be intellectually challenging, but rewarding and provide great opportunities in the long run. I believe that I am passionate, intellectually capable, and prepared to set out on this exhilarating and challenging path. I wish to make significant real contributions to the current research projects in this field by working on innovative projects and discovering the undiscovered concepts in Data Science. I explicitly would like to work in the field of Data Analytics to improve User- Experience in the e-commerce sector of business which has become an essential part of our life.

Universities Information:
The University of …… in the United States has consistently been my desired university since I began searching for my schooling abroad. The United States is known for its remarkable mechanical turn of events and predominant exploration in the field of Data Science. The University of …… encourages a climate that grasps all aspects of individuals and helps them accomplish their maximum capacity through their different points of view. I am sure that at the University of …… I will be engaging in a comprehensive learning society that will assist me in growing in my higher studies and self-awareness. The variety of subjects your foundation provides will assist me with increasing a larger viewpoint and reflect positive change inside me.


Aadarsh Roy
Applying For The Master's Program, For 2021 session

It is absolutely important for candidates to make sure that the content of the SOP is not plagiarized. The reviewers of your SOP are smarter and can easily identify plagiarized content. When you are applying for a data science course, it is expected that the reviewer is a highly experienced one and specifically in the field of data science.

Also, make sure not to write something that is not true or something that you have not experienced. Remember your story and your experiences are the most important aspect of your SOP and write an honest and concise SOP.

SOP for Data Analytics
SOP for Data Analytics is the opportunity for the candidates to show your potential and how unique you are. Before writing SOP for data analytics, it is important to lay down all your thoughts systematically so that you can put it correctly on your SOP.
Here is a list of a few points for you to consider while writing SOP for data analytics:
Firstly, mention the course you are opting at that particular university. Also, the reason for choosing that particular course.
If you have any work experience in that particular field, you must mention that.
Write about why you chose that university out of all other universities offering the same program.
Present your personality traits in the SOP for Data Analytics. You can talk about your hobbies, your habits keeping in mind that it should be relevant to your career and goals.
How to write an SOP for MS in Data Science?
MS program in Data Science is a program that helps students learn how to build data-driven systems. Data Science graduates have a number of career options as they can work as a consultant, data scientist, or data analyst in top companies and industries.
A well-written SOP can help you establish yourself as a deserving candidate for pursuing the course in the university of your choice. Since it is an essay that determines your admission to a university, it should reflect your personality clearly.
The tone of the essay should be formal and official as it is to be read by the administrative staff of the university.
You can also write your SOP in a narrative tone that will keep the reader interested.
Having an interesting start to your essay helps maintain the attention of the person reading it. Make it clear and catchy.
The essay should be creative and original; it shouldn't be disrespected in any way.
Most of the universities specify the word limit for the essay which should be strictly adhered to.
If the word limit is not specified, you can keep the word count to a maximum of 1,000 words.
Keep the essay crisp and to the point without engaging in too much detail.
Don't spend too much time formatting your essay to make it look fancy, that will not make a positive impression on the reader.
Be honest in your essay
The language of the essay should be simple and easy to understand. However, you can add some scholarly words to make a good impression.
Also Read: Data Science Syllabus
SOP for MS in Data Science
Writing an SOP may seem like a tiresome and hard task, but once you get clarity on what you should write in the essay, it will be easy to work on. Before writing the essay, formulate your ideas and organize them in a structural way.
It is better to write a rough draft and proofread the sample time and again to avoid any mistakes. It is the most important part of your documents and should be written carefully and attentively.
Write about what interests you and why you chose to pursue data science.
You can also write about your choice of a particular university and what attracts you to it.
Write a bit about yourself, mention how your school and extracurricular activities have enhanced your overall personality.
Write about any past work experiences and contributions.
Write about your qualities and skills that make you a good candidate for the course.
You should also mention your short term and long term goals, and how you aspire to achieve them.
Mention your views or outlook regarding a certain issue that you may feel is important.
Do not write about anything that has no relevance to your course or interests.
Mention how the program will help you in achieving your future goals.
Do not be overconfident about yourself in writing your SOP. Make it subtle and write about the achievements that made you do better.
Also Read: Top Universities for MS in Data Science in Germany-Complete List 2019
Sample SOP For MS In Data Science
Ever since my childhood, I have been a curious and eager child. Computers have been the biggest part of my life. Now with each passing year, my interest has grown manifolds. I am particularly interested in studying data science since I realized that it can be used to develop marketing models and that companies these days are starting to analyze big datasets to measure consumers' product preferences and make use of it to determine their future sales.
The multi-disciplinary field of data science combines computer science with probability, statistics, analysis and management skills. Data science is also the answer to the most complex business and practical questions. I believe that data science is the future of Artificial intelligence and it is beneficial to learn about it more to cater to my interests. I hope to use the knowledge I will gain from my masters' degree to perform meaningful analysis of large sets of data.

I have been intensively involved in learning maths throughout my education and had a particular interest in the subject. I am familiar with concepts such as multivariable calculus, elementary statistics, and probability theory. I have also studied data structures which were the beginning of my interest and played a crucial role in forming my choices.

I have interned at two different firms that specialized in performing data analytics task to help research for companies aiming to start new projects. My project made extensive use of python and C++ and I have learned a lot about these programming languages during my internship. I had to analyze real-time purchasing and location data to determine the preferences of potential consumers. I wish to use my knowledge and skills in data science to provide well-sustained research and analysis for companies.

Throughout my graduation and practical work experience, I was fortunate to gain some required experience in the domain of analytics. I believe that curiosity and eagerness to learn can take you places. I wish to learn everything I can in the field of data science as I believe there is still a long way to go for me.

This masters' program will thus be a step towards achieving my dreams. This program will train me in different methods of statistical analysis, and programming knowledge needed to continue with my goal to provide research for companies. (University name) has been my dream institute to pursue this course as I wish to take the benefits of the expert knowledge provided by the skilled faculty of the university.

Through this degree, I aim to enhance my knowledge and expertise in programming and mathematics. After completing my MS, I wish to get into the field of Health analytics as I believe that the medical industry will be subjected to change and growth with technological advancement. The practical knowledge will give me the technical expertise to pursue my career as a data scientist.
SOP For MS In Data Science : Sample 2
Nowadays, Predicting future outcomes based on data and trends is in demand, and it catches my interest from the beginning. Data science is in use everywhere, whether it's for predicting buyer preferences on online shopping sites or influencing political victories. The utility of data science and analytics and its vast scope for practical application in all areas of industry and technology has made it my dream choice for further studies and the ideal career option. This course offers the subjects which I aspire to learn, and I believe it would enhance my career in a much better way. I am thrilled to know that it offers subjects like Big Data Analytics and Machine Learning which match my learning goals.

I have completed the 10th standard from CISCE and secured 79% and I wanted to pursue a career in medicine, so I took up science with Biology with Mathematics in the 12th standard from CISCE with 72%. To prepare for medical entrance exams, I took coaching for a year but unfortunately, I could not qualify for the college I was aspiring for. So, I opted for my second favourite field, Computer Science, without wasting any time. In my undergraduate education, I completed my Bachelors in Computer Applications from Indira Gandhi National Open University and secured 68%. After that, I Completed MCA from IGNOU in 2020 with 67%.

During my undergraduate studies, I did a major project that helped me in understanding the concepts of Software Development and Project Management. For this, the Agile Project Management model was implemented wherein the application was developed in an iterative approach by completing each module in small sections and joining them together. Another project is IIS (Immunisation Information System). Web application developed in JSP that maintains records of registered children as well as Government and Private Hospitals for obtaining details of newborn babies, to give their families basic knowledge about immunisation and notify them about vaccination drives in their locality. Then, I worked on one mini-project called the Online Bank Locker Management System. A Web application is developed using JSP, to manage allotment and cancellation of bank lockers; yearly locker rental charges; manage appointments for locker operation.

After completing my bachelor's, I started working with the IT Services division of TERI – The Energy and Resources Institute as an intern and I worked on automation testing (functionality, performance, and security) of certain web applications using Selenium and Java as the tools. After 8 months of my internship, I got promoted to External Consultant in May 2019, wherein I worked on a research-based project that involved social networks analysis, and this was where I got a chance to implement my Python skills in a real-world scenario. My profound interest and curiosity in this segment increased my focus in Analytics and Data Science to understand the background of these statistics being involved. After that, I worked with Zorba Consulting India as a Power BI Developer. I worked on Dashboard Development for external clients and wrote blogs related to Power BI.

I‌ ‌have‌ ‌taken‌ ‌in‌ ‌the‌ ‌fundamental‌ ‌essential‌ ‌inclination, ‌ ‌abilities,‌ ‌and‌ ‌information‌ ‌on‌ ‌data‌ ‌as‌ ‌of‌ ‌recently.‌ ‌My‌ ‌present‌ ‌information‌ ‌about‌ ‌data‌ ‌sciences‌ ‌has‌ ‌made‌ ‌me‌ ‌ready‌ ‌to‌ ‌comprehend‌ ‌data‌ ‌innovation‌ ‌more. I‌ ‌accept‌ ‌that‌ ‌this‌ ‌is‌ ‌a‌ ‌well-suited‌ ‌opportunity‌ ‌to‌ ‌seek‌ ‌after‌ ‌my‌ ‌alumni‌ ‌concentrate‌ ‌in‌ ‌the‌ ‌field‌ ‌of‌ ‌my‌ ‌premium‌ ‌and‌ ‌immovably‌ ‌obtain‌ ‌that‌ ‌my‌ ‌finesse‌ ‌and‌ ‌goals‌ ‌locate‌ ‌a‌ marvellous ‌counterpart‌ ‌for‌ ‌the‌ ‌M.S. in Data Science.‌ ‌It‌ ‌will‌ ‌be‌ ‌the‌ ‌most‌ ‌suitable‌ ‌program‌ ‌to‌ ‌seek‌ ‌after‌ ‌considering‌ ‌my‌ ‌learning‌ ‌wants‌ ‌and‌ ‌my‌ ‌future‌ ‌aspirations.‌ ‌

A‌ ‌Master's‌ ‌certificate‌ ‌in‌ Data Science‌ ‌from‌ University Of Technology Sydney ‌will‌ ‌take‌ ‌me‌ ‌closer‌ ‌to‌ ‌my‌ ‌objectives,‌ ‌consolidating‌ ‌various‌ ‌territories‌ ‌of‌ ‌my‌ advantage‌ ‌in‌ ‌its‌ ‌coursework.‌ ‌The‌ ‌educational‌ ‌plan‌ ‌will‌ ‌help‌ ‌me‌ ‌acquire‌ ‌information‌ ‌in‌ ‌the‌ centre ‌territories‌ ‌of‌ ‌Data ‌Science‌ ‌alongside‌ ‌top‌ ‌to‌ ‌bottom‌ ‌knowledge‌ ‌in‌ ‌the‌ ‌zones‌ ‌of‌ ‌my‌ ‌advantage.‌ ‌I‌ ‌can‌ ‌accumulate‌ ‌new‌ ‌ranges‌ ‌of‌ ‌abilities‌ ‌and‌ ‌technical‌ ‌aptitude‌ ‌in‌ ‌a‌ ‌refined‌ ‌global‌ ‌and‌ ‌assorted‌ ‌setting.‌ ‌The‌ ‌magnificent‌ ‌grounds‌ ‌assets,‌ ‌understudy‌ ‌scholarly‌ ‌offices,‌ ‌recognized‌ ‌workforce‌ ‌, and‌ ‌incredible‌ ‌graduated‌ ‌class‌ ‌network‌ ‌will‌ ‌be‌ ‌of‌ ‌extraordinary‌ ‌noteworthiness‌ ‌to‌ ‌my‌ ‌MS‌ ‌program, ‌ ‌which‌ ‌will‌ ‌give‌ ‌me‌ ‌rich‌ ‌learning‌ ‌openings.‌ ‌ ‌

I found Australia to be the best choice for my higher studies for various reasons. Australia is currently the third most popular destination for international students in the English-speaking world, behind the United States and the UK. Many international students choose to study there because of cultural diversity, friendly natives, and high quality of education. It is a beautiful country with almost the same or better weather conditions as compared to Nepal and has a low crime rate and strict gun control law makes it a safe place to live.

After the successful completion of this course, I aspire to come back to my home country with all the knowledge and experience and secure a position as a data scientist or work in the field of artificial intelligence in research-based domains about life sciences and medicine. I have always been inquisitive about biology, and using analytics and AI in this stream will broaden my horizons in the field of research. I would like to leverage this golden opportunity to work at the zenith of my career in Biotech and Pharmaceutical organisations like Novartis, Biocon, Serum Institute of India Ltd., AstraZeneca, Pfizer, DNAnexus, Google Genomics.

Having‌ ‌the‌ ‌necessary‌ ‌technical‌ ‌information‌ ‌and‌ ‌the‌ ‌correct‌ ‌outlook, ‌ ‌I‌ ‌am‌ sure‌ ‌about‌ ‌seeking‌ ‌‌ ‌this‌ ‌advancing‌ ‌alumni‌ ‌course‌ ‌at‌ University Of Technology Sydney ‌to build‌ ‌an‌ ‌extraordinary‌ ‌vocation‌ ‌ahead.‌ ‌I‌ ‌will‌ ‌invest‌ ‌my‌ ‌best‌ ‌energy‌ ‌amounts‌ ‌in‌ ‌maintaining‌ ‌the‌ ‌university's‌ ‌estimations‌ ‌while‌ ‌giving‌ ‌up‌ ‌a‌ ‌fantastic‌ ‌imprint‌ ‌as‌ ‌an‌ ‌understudy.‌ ‌I‌ ‌trust‌ ‌that‌ ‌it‌ ‌considers‌ ‌my application.‌ ‌
SOP For MS In Data Science : Sample 3
Computers are one of the most important creations, which changed the world. In these rapidly changing times, more innovations in computer sciences are the need of the hour, and I wish to foster that change and impact my work in computer and data science. I am exceptionally fascinated by factual conclusions utilized by specialists to pre-empt various examples of play. Computer science and analytics's utility and its immense degree for commonsense application in every aspect of industry and innovation have settled my fantasy decision for additional examinations just as the ideal vocation alternative. Right through my childhood, I have been intensely involved in gaming, whether indoor or outdoor. It gives me the zeal to brainstorm, create a strategy, conquer the target, or score the game. However, I have been persistent about my passion for computers. It persuades me to learn more about them, excel in that area, and contribute to society's development and benefit.

In my academics, I completed the 10th standard from Vishwa Shanti Public School with a C.G.P.A. of 9.7/10 and finished the 12th standard from the Sri Chaitanya Junior College with 96.2%. After that, I did my undergraduate education in Bachelor of Technology in Information Technology majors from G.M.R.I.TRajam (J.N.T.U.) with a High C.G.P.A. of 8.2. I possess certificates in Programming, Data Structures and Algorithms using Python by N.P.T.E.L. Also, in Pega and Foundational Artificial Intelligence certificate by N.A.S.S.C.O.M.

I also did a one-month internship in Tejwin Software solutions. N.E.T.

I was engaged in various projects like Automated Brain M.R.I during my undergraduate education. Image Classification Using Machine Learning Algorithms. This project helps classify the brain M.R.I. images and then find out whether the person has a tumor or not. My other project is to Automation of Capturing Students Exam Results into Spreadsheet Using UIpath. This project eliminates the traditional way of entering student results into spreadsheets by automating this process using UIpath tools.

Apart from my regular academic engagements, I earned a Gold badge for problem-solving in HackerRank and earned a Silver Badge for C language in HackerRank. I am also a Runnerup in "Unlock Me (A Programming Contest)" conducted by GMR Institute of Technology under Zenith Fest.

In my working experience, I am presently working in Tata Consultancy and Services. It is one of the best I.T. companies in the world. My role at this company is as a "Front-end Developer," where I have to deal with web and mobile applications, and I have been working in the same role for seven months. During this period, I have completed two applications, namely "Employee Details" and "Shopping Cart," where I have used "Angular" as a technology. We used technologies like HTML, typescript, CSS, bootstrap and this industrial experience helped me a lot because I have learned how to make applications based on our client user requirements.

So, to widen my knowledge in this field, I decided to pursue my master's domain. I am sure that I will follow an M.S. in Data Science program from University Of North Texas. It would be the right choice for me, as it is one of the most versatile universities providing individual attention and substantial academic resources and superior education in Data Science. I will obtain an education that gives me both the technical skills and the intellectual discipline to become a leader in the industry. It is the meeting spot of several social lives and cultural ideas. In all, it is a comprehensive university that furnishes an education that will serve me well in my career and prepare me for a lifetime of learning.

My aspiration is apparent; I want to become a computer professional and put my talents to optimal use. I had always envisioned a career that involves creativity, innovation and flexibility to work in any situation. I am confident that higher education would help me achieve my career goals and do well in my chosen field of interest.

The U.S.A. offers students the opportunity to gain an internationally recognized and respected academic qualification. It's a beautiful place to study because of its high-quality educational infrastructure, world-class teaching methodology, rich heritage, and diverse culture. It is a well-known fact that the U.S.A. as a destination is chosen by students worldwide as there are numerous universities here that are internationally recognized. The U.S.A. provides an outstanding education and learning style adopted by universities to make individuals innovative, creative, and think independently. It gives a chance to develop knowledge levels, improve skill sets in the particular subject area, provide freedom to be creative, and support you in achieving your best in academic terms.

I have inhibited plans for myself after completing my Master's in Data Science degree and, in the long run, would like to acquire a respectable and constructive career in the field and contribute my bit to society. A dedicated study in Data Science would help me gain a lot of experience and add to my experience in this field.

I also believe that stretching myself outside the comfort zone of my homeland to pursue advanced studies will have a stellar impact on my professional and personal growth. Gaining a Master's degree from University of Birmingham will be a big boost to my confidence, and therefore, I shall be obliged if my application gets considered.
Also Read:Masters in Data Science in Ireland
coursefinder
know the chance of admit

at your dream university with

our course finder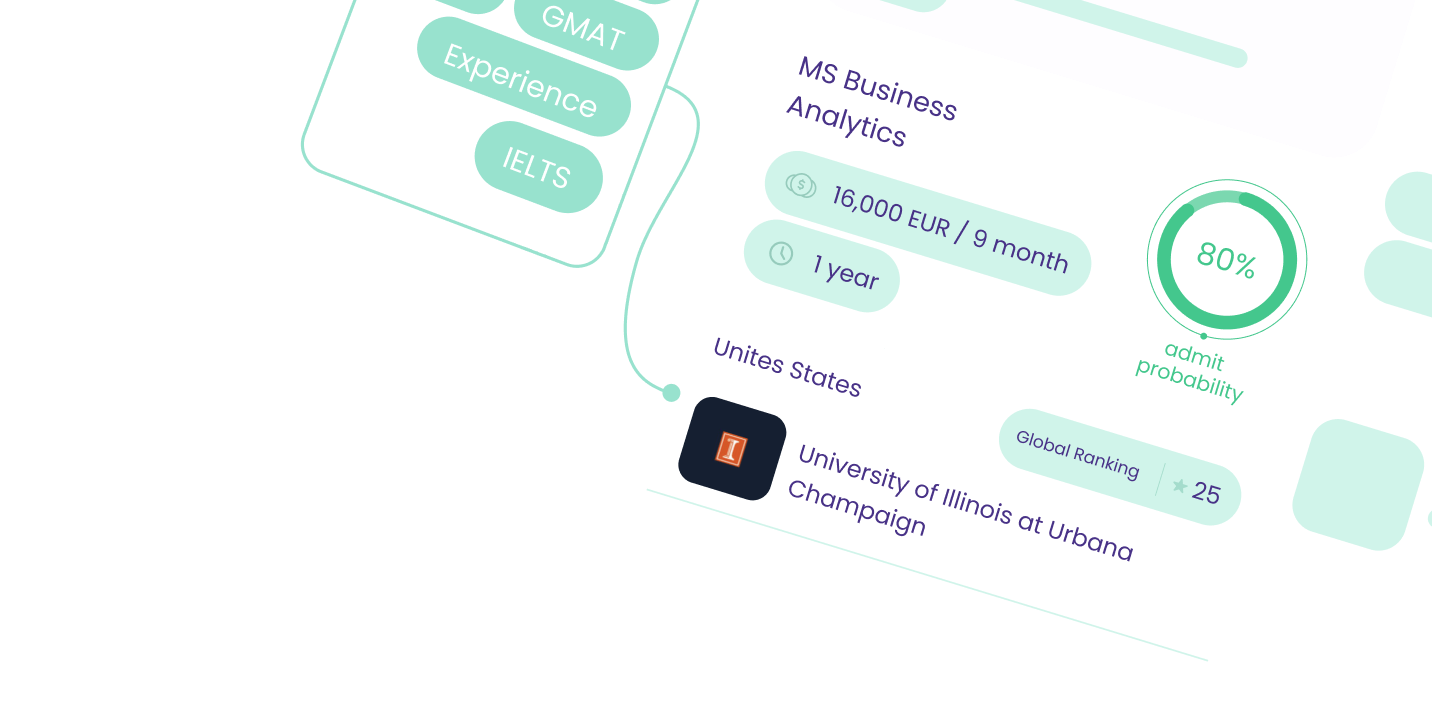 coursefinder
know the chance of admit

at your dream university

with our

course finder
FAQs
✅ What is a Statement of Purpose?
Ans. A Statement of Purpose is an essay mentioning your goals and aspirations. It is an important document that is to be given special attention as it is read by the administrative staff of the university.
✅ Why is an SOP necessary?
Ans. A university analyses a student's capabilities, knowledge and personality through reading their SOP. It determines whether a student is a deserving candidate for the university.
✅ I am not good at English and I have a basic vocabulary. Will it affect my SOP and my admission to the university?
Ans. You don't need to include an impressive vocabulary to make yourself look good. The universities look for creative and unique minds and so focus on making your essay original and catchy.
✅ How do I structure my SOP?
Ans. Write an impressive and catchy beginning. Divide your essay into various paragraphs with understandable content and a conclusion. Make it comprehensible.
✅ How can I make my essay remarkable?
Ans. Write about yourself and your goals that motivate you. You can talk about your interests and passions and your reasons for your choice of university and course. Write it in a narrative tone that will engage the reader and raise their curiosity.
✅ Can I write an essay from any other source?
Ans. Never plagiarise your work. Be unique, creative and honest. Do not lie. Copied essays will have a negative impact on the reader and may affect your admission process.
✅ Is there a word limit to the essay?
Ans. Most of the universities mention the word count that is to be followed. It usually ranges from 500-1,000 words or the length of two A4 size pages.
✅ Is there any specific way to write an SOP?
Ans. There is no definite way to write your SOP. Keep in mind the Do's and Don'ts of a good essay and use your imagination and personal experiences to write it in your own way. It is a reflection of yourself and should highlight your uniqueness.