Canada, the largest country in North America, is also the second-largest country in the world territory wise. Along with being a wonderful place to move to, it is one of the largest and fastest-growing destinations for diploma courses and vocational training. In this article we will learn the minimum marks required to study in Canada after 12th and graduation.
They are boasting of having 21 of the world's top 500 universities according to the QS rankings. Canada welcomes every year the cream among the best students to a wonderful academic experience, immense opportunities post completion of courses, and the world's most renowned research facilities.

---
---
Minimum Percentage Required For Canada After 12th
If you are going for a diploma, a grade point average of roughly 60% is necessary in 12th grade, while some universities accept students with a grade point average of 55%.
If you are applying for a Bachelor's degree at a university, you must have a minimum grade point average of 70% as well as an SAT/ACT score.
Those who did not receive a minimum of 70% but wish to apply for a Bachelor's degree can undertake a two-year Advanced Diploma with a minimum GPA of 3 and then continue on to the final years of the degree at a university with whom the institution has a relationship.
If you apply for a Bachelor's degree at a university, you would need to have at least 70% along with an SAT/ACT score.
Minimum Percentage Required for Canada After Graduation
The most important question that comes in the mind of a student who wishes to pursue an education in Canada is, what is the minimum marks required to get into a good university? Well, the answer varies in accordance to the study programs as well as levels.
While English language requirement is the minimal must, a minimum academic score of 65% or above (for humanities), 70-80% or above (for Science and Commerce) in XII is a must. For ones who are seeking for a diploma program, a minimum of 60% is a must to be eligible to apply. Also, the student must have completed his 18 years of age before joining a degree program.
(The numbers mentioned above are for reference purposes, actual numbers may vary from university to university).
Canada Student Visa With 50% Marks
For Visa, there exists a minimum of 60% criteria, but we can still try for SPP (students partners program) and if your profile is extraordinarily good there are chances to get a visa.
One of the most appealing aspects of SPP is that the issuance of student visas is quicker and simpler. Fewer papers are required for a visa and no evidence of income tax is required under this program.
The SPP visa application will be reviewed and finished within 5 to 10 working days. Visa applications must be sent by 1 August of each year to those requesting entry for the Fall/September admission. You may opt to apply for a visa online or through VFS (Visa Facilitation Services) in New Delhi.
Canada Student Visa With Low Percentage In 12th
The VISA procedure will not be dependent on the marks that you have received in your intermediate. It's going to be based on your IELTS ranking
IELTS is an assessment to assess a person's abilities to read, write, listen and speak English pieces. And they're going to see the ranking in this survey. And it's necessary for you to talk in English if you have to spend in foreign countries.
The evaluation will be administered for ten bands. If you can get over six artists, you can go through the visa process.
The IELTS review consists of the following parts:
READING – 40 points
WRITING – 40 points
SPECIFICATION – 40 points
LISTENING – 40 points
It's best to get over 25 points in and segment to get any decent bands.
PROCESS VISA –
You should apply for a university after you appear for the test. The colleges will then send you an admission depending on your profile. Once you will get an admission letter, you will go through the VISA process.
Planning to Study in Canada
get a shortlist of best universities

according to your profile for

studying in Canada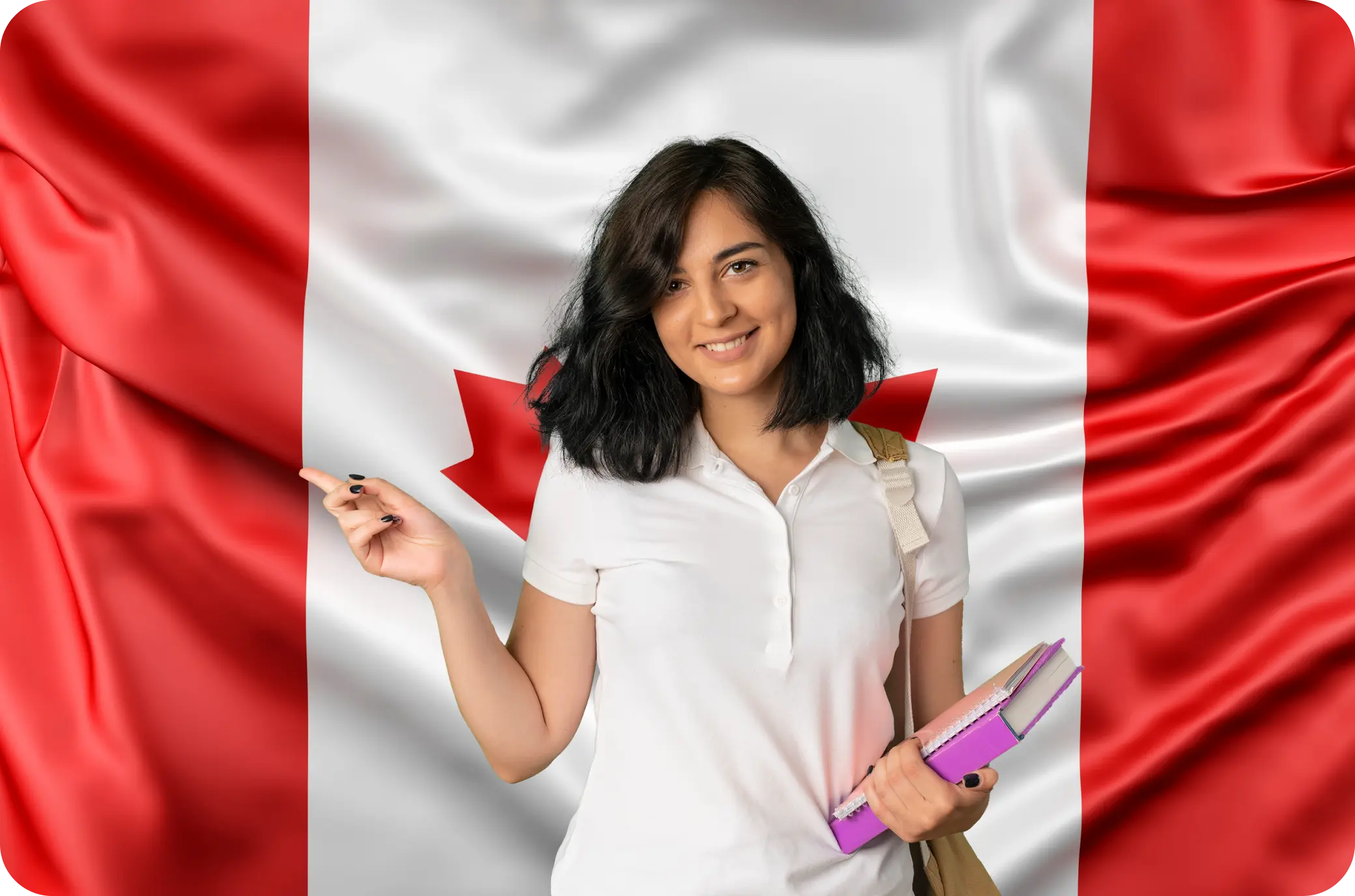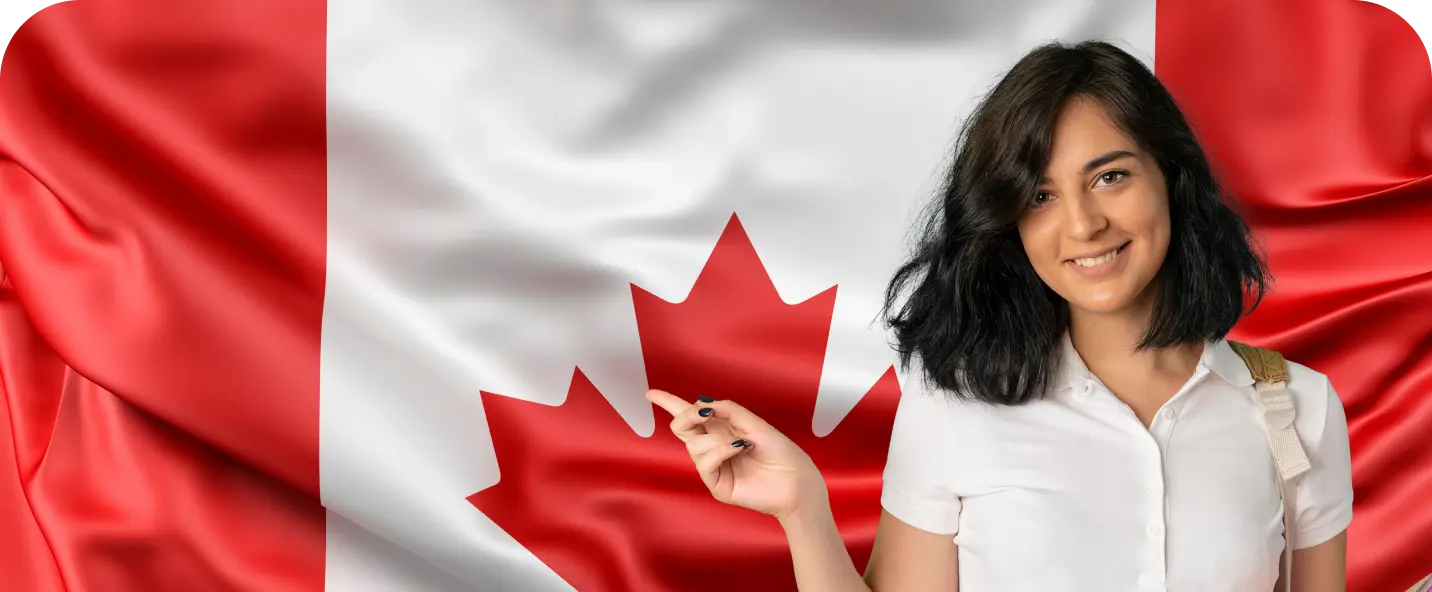 Planning to Study in Canada
get a shortlist of best universities

according to your profile for

studying in Canada
Best Universities To Go In Canada?
Among the best are Universities like British Columbia University, The University of McGill, Simon Fraser University, University of Alberta, McMaster University, University of Toronto and the University of Montreal. The number of student visa applications and conversions have increased by a whopping 62% after 2018. With the rigid yet liberal immigration laws play a major role in attracting students, the marks of the student to get a student visa becomes immensely important.
The one thing to note here is Canada is becoming a more favorable option for people who are looking to do vocational courses than a university education, as the number of job opportunities, in that case, is more. Having a low population density and burgeoning economy, the scope for work increases immensely.
Among the graduation and post graduation courses, the most popular ones include Pharmacy, Engineering, Computer Studies, Business Management, and Mass Media Communications.

Documents Required for Canada After Graduation
The following is the list of documents that are required to be submitted:
Attested copies of Marksheets: Marksheets of Standard X, XII and graduation (if applicable) by self-attestation is the most important document
References: The reference letter needs to be from a faculty from your graduation university who must have taught you in the recent past.
Work Experience: In the case of having work experience, the letter of recommendation from both employer as well as a manager is required. Adding work experience adds to the professional abilities and hence gives an edge to your application.
Statement of Purpose (SOP)
Resume
Student portfolio (in case of a student applying for a program related to art, design, and architecture)
Others (May include merit certificate in school, sports, and curricular activities certificates, national and state level certificates if any)
Proof of Funds
Medical Tests
Documents Required For Diploma Courses in Canada
The application for a diploma course needs to have some certificates to supplement the documents of a genuine applicant. While the requirements may be subject to change according to different universities, the generic list of documents that is necessary for almost every university and college is as follows :
Valid Passport
Academic Transcripts: Which generally includes mark sheet from class 9 onwards. In case the application is for someone interested in pursuing PG in Diploma, mark sheets of a bachelor degree are also required.
Proof of Funds: A detailed financial information about your family is necessary for the college to determine the eligibility of scholarships and the ability to afford the education.
Language Exams: While IELTS or TOEFL are not mandatory for diploma courses, some colleges do ask for it in case the applicant hasn't studied English until his/her 12th.
Statement of Purpose (SOP): This is the detailed introduction of the applicant to the college administration and admission office. The SOP has to be written in the first person always along with a genuine reason to join the particular university/college. The idea is basically to highlight your professional and personal interests and capabilities that sets you apart and shows why you'll be an asset to the curriculum. While the style may be formal, a casual one, it can highlight your personality, always stands a chance. A Statement of Purpose (SOP) is your introduction to the college and admission officers. It is always written in the first person and describes the reason for applying to a particular college. It needs to highlight why you are a perfect fit for the college and why the college should accept you. The style of writing could differ from formal to casual, but it is important to remember that it should reflect your personality as well.
Essay: Essays are one of the most important parts of the university screening process. The number of essays may be one or two, and even some optional essays. Topics range from career aspirations, skilling, and education, professional experiences, reasons for choosing the particular curriculum, etc.
Letter of Recommendation (LOR): It is a third party letter which is written to describe the characteristics, qualities, and recommendation given by the college professor, or maybe a direct manager.
What Are Major Reasons For Canadian Student Visa Getting Canceled?
The 5 most common reasons for cancelling of Canadian visas are stated below:
1. Not Including Letter Of Acceptance
Before applying for a visa, you must receive a letter of approval (LOA) from the Canadian Host School on the list of designated learning institutions. The visa officer may reject your application if they doubt the validity/authenticity of your LOA or recognize your failure to comply with the program requirements.
2. Financial Reasons
Applicants must request a bank certificate or a bank statement as part of the Canadian visa application process. These documents provide proof that you can support yourself while studying abroad. Uncertainty about your ability to pay travel expenses, school fees, and day-to-day living while in Canada is all the reason why a visa officer may deny your application.
3. Failure to Leave Country After Finishing Studies
It is necessary to note that a student visa is a provisional visa, which means that it has an expiry date. As such a visa officer must trust that you will be returning to your country of residence at the end of your permitted stay. Previous travel records, family connections in Canada and your country of origin, and the intent of your visit may all possibly lead a visa officer to believe that you will stay over your visa and fail to apply.
4. Issues With Travel or Identity Documents
Submit all required (and correct) documents, including a valid passport, recent photographs, and completed forms. The visa officer can use these papers to decide if you are eligible to fly to Canada. Make sure you finish all the parts you need and that they're easy to comprehend.
5. Academic Performance
Visa officers are searching for continuity through past academic results. But while good grades are a crucial factor in the acceptance of a visa, they don't stop there. The decision to apply for a visa also applies to your English language skills, as shown by your IELTS or TOEFL score. With a combination of unequal grades and a low ranking, a visa officer can doubt your ability to cope with English-speaking courses.
Check Out:
Canada Work Permit
Canada Work Permit is a mandatory authorization issued by the Canadian government that permits eligible citizens from other nations to work in Canada for a set length of time. People usually apply for this visa after getting a job offer or contract from a Canadian firm or organisation. Applicants must additionally verify that their company has acquired a Labour Market Impact Assessment (LMIA) from the ESDC (Employment and Social Development Canada), allowing them to hire workers from other countries for positions that cannot be filled by Canadians.
How to Obtain Canada Student Visa?
To pursue your ambition of receiving a Canadian education, you must first get a study permission. Students will be able to apply for a Canada student visa and live out their dreams after they have got their study permission for Canada. The following are some key considerations to bear in mind while applying for a study visa in Canada:
Acceptance by a Canadian academic institution is a requirement.
Candidates must demonstrate their financial stability to ensure enough funding for their educational programmes.
Medical health insurance is available.
Documents demonstrating the candidate's lack of a criminal record to assure your safety in the nation.
coursefinder
know the chance of admit

at your dream university with

our course finder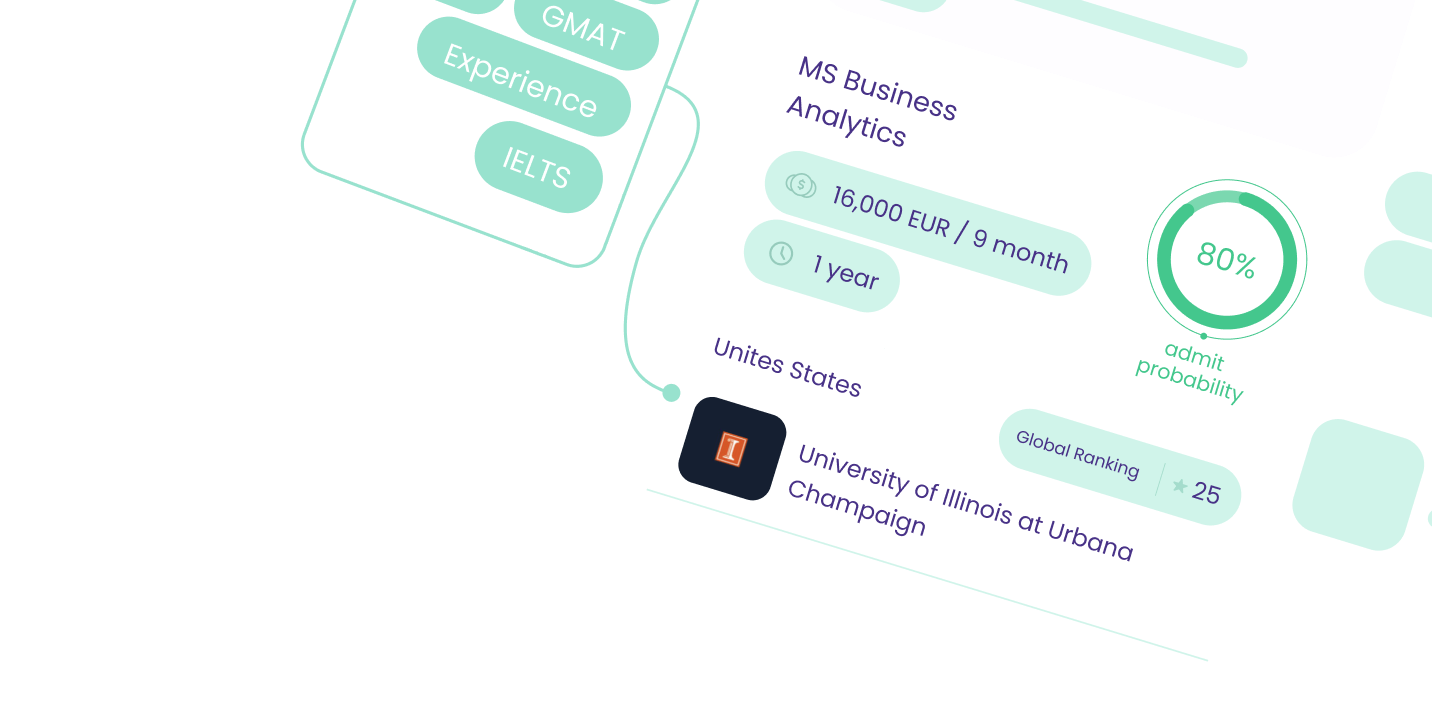 coursefinder
know the chance of admit

at your dream university

with our

course finder
FAQ
✅ What's the age requirement for a student visa in Canada?
Ans. There is no age restriction here. The college may accept students of any age, CIC may not issue a study permit to anyone of higher age. One must clarify and satisfy CIC about: the need and importance of a higher age analysis after a period of a few years after the last study.

✅ What is the minimum percentage needed to study in Canada?
Ans. A minimum academic record of 65 percent and above for Class 12and 70-80 percent and above for Science/Commerce streams in Class 12will also be required. Foundations and Diploma plans are available for applicants who have secured fewer than 60 percent.

✅ What documents are required for a Canadian Visa?
Ans. Here is the list of documents required for CanadianVisa:
1. Valid Visa, please
2. Proof of approval by the Appointed Learning Institution
3. Proof of the money
4. Photographs in Passport Scale
5. Immigrant Medical Test (IME)
6. English Language Test Proficiency Score
7. Purpose Argument
8. Use Mastercard

✅ Is it possible to get a student visa from Canada?
Ans. If you receive a letter of approval from a Canadian academy, it might feel like the hard part is over. The fact, though is that it may be a lot harder than it appears to be to get a Canadian research permit. According to IRCC information, about 30% of all applications for research permits are denied.