How to Study in Canada in 2019?
The universities of this are preferred by more than 130,000 international students every year. It Offers high-quality teaching system; it is also rich in diversity and cultures. The three aspects of Canada are research, scientific publications, and international collaborations. There are various steps which are needed to be fulfilled by the candidates in order to study abroad.
Canada is indeed a place to visit be it for higher education or travel. It provides a vast opportunity and better prospects for life. The Country holds 21 universities in the top 500 whereas almost 32 colleges in top 1000, and it welcomes almost 400,000 students from all over the world. It offers excellent study programs and is also home to some high research industries and academic institution. If you choose to study in Canada, you will encounter some great possibilities in life, vastly cultural and natural experiences- the culture of Manitoba, the variety of British Columbia, the scenes of Vancouver, the stunning places of Montreal and the beautiful city life of Toronto. The country is an official bilingual status, with English and French used concurrently in government and official documents. It's also known for its vast population (despite being the world's second-largest country, it has a population smaller than that of just one US state, California) and for its harsh winters. In some parts of Canada, snow covers the ground for almost half the year – but you're unlikely to find any Canadian universities in those regions!
Why Study in Canada?
Here are top 5 Reasons to Study in Canada:-
High standard of living
Comparatively low cost of living
Excellent natural/living environment
World class education system
Get On Track for the promising future
Understanding the Requirements
To successfully apply Canadian education institution requires an understanding of different requirements that are there to apply for schools and what various courses they offer. Candidates also need to research and adequately analyze what all rules and regulations apply to the study permit application process.
Ideally, you should start planning for your Canadian study permit at least some time (1-2 years) in advance. Some basic requirements that all universities and institutions include an updated passport, expertise in either English or French with proof of passing prescribed language tests with minimum grades/bands, and evidence that you can finance your study as well as the cost of living in the country.
Of course, requirements vary between provinces, which is why this step is the initial and the most essential step which is needed to be performed carefully and systematically.
You don't need a study visa (or Canadian study permit) if any one of the following situations does apply to you:
If You are a family member or staff member of any foreign representative in Canada, who is accredited by the Department of Foreign Affairs, Trade, and Development Canada.
You are enrolled in a study programme that lasts less than six months
You are a member of foreign armed forces from the Visiting Forces Act
You are a citizen of another country, but you have an Indian status registered in Canada
Choosing a course and institution
The first step towards selecting an institution is to confirm its status as a Designated Learning Institute. Only DLIs can admit to international students. You will be required to specify a significant course when applying to study in Canada.
The Canadian academic setup is flexible towards switching courses, although it is best to compare your options beforehand and choose a major that you are genuinely interested to study in Canada.
If you're still not sure where you want to study in Canada, you will have to decide before you can start your student visa application process. After being accepted at a Canadian university, you'll get an acceptance letter required for the visa application.
Some top universities to study in Canada:
Some of the most popular options to study in Canada are:
Bachelors in Computer Sciences
Bachelors in Engineering
Bachelors in Psychology
Bachelors in Languages
Bachelors in Mathematics
Also check out: spp colleges in Canada
If you're still unsure which field you should follow, and then you must check out some of the most popular destinations for students, like:
Montréal
Burnaby
Toronto
Vancouver
Most Popular MS Courses to study in Canada
Top MBA Courses to study Canada
The Joseph L. Rotman School of Management, University of Toronto
Ivey Business School, University of Western Ontario
The Desautels Faculty of Management, McGill University
Schulich School of Business, York University
The Smith School of Business, Queen's University
Check out: Top 5 MBA Colleges in Canada
Affordable Courses for MS to study in Canada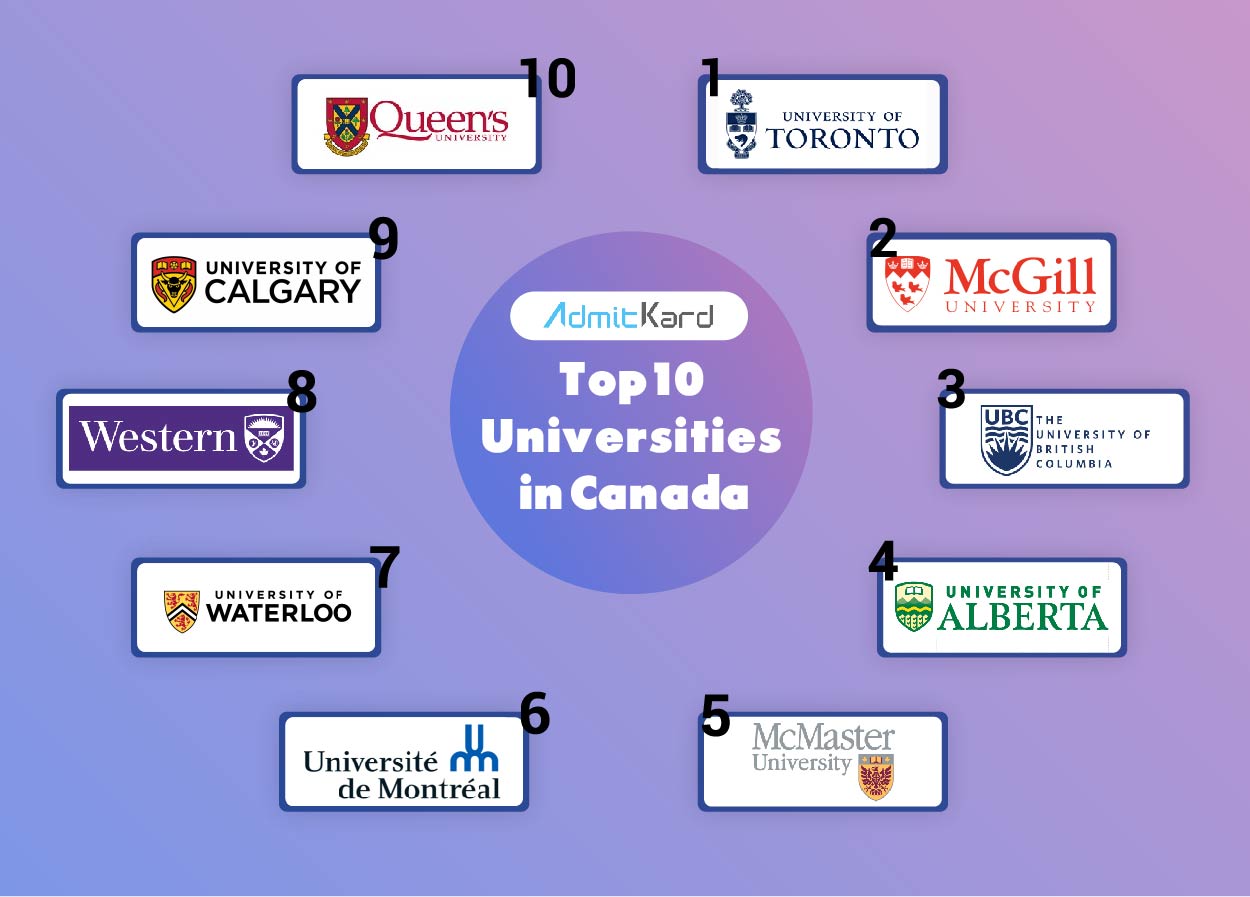 Apply to University
Firstly you need to shortlist colleges according to your preferences and courses you want to apply for. It is essential to contact your shortlisted of universities, obtain their application packs, and submit them well in advance.
You can apply to as many colleges you want to use and having the advantage of applying to a dozen universities can be little extravagant as you will have to consider the application fee, which varies from $100 to $250. Compare your options, identify your preferred course and institution, and select one or two alternatives as backups.
Be careful when filling in the application form and make sure you are providing all the accurate information backed with documentary evidence which all is required. Once this is done, it is time to wait until you receive your acceptance. Once you confirm your interest, the university will send an acceptance letter, which plays an essential role in the formalities ahead.
Major student cities in Canada-
Montréal
It is featured as the 4th best city for students in the QS Best Student Cities index, Montréal is the biggest city in the French-speaking province of Quebec and the second-largest city in Canada.
Among the top universities in Montréal is Canada's second-highest ranked university this year, McGill University (33rd in the QS World University Rankings® 2019). Beyond that, universities in Montréal also include the Université de Montréal (joint 149th) and Concordia University (joint 464th) among others.
2. Toronto
It is the provincial capital of Ontario and the largest city in Canada. When it comes to education, universities in Toronto include some of Canada's highest-ranked. Indeed, the University of Toronto is Canada's highest-ranked entrant in the QS World University Rankings 2019, at 28th in the world. It's joined by York University (ranked joint 481st), Ryerson University (801-1000) and a selection of other higher education providers, including the Royal Conservatory of Music.
If not sure whether to study in Toronto or Montreal? You should get a comparison of both cities done.
3. Quebec City
If you like picturesque and historic cities, you can't get enough of Quebec City. Quebec is the capital of the province with which it shares its name, and of French-speaking Canada as a whole. Notable universities in Quebec City include Laval University (ranked joint 402nd in the QS World University Rankings 2019) and the Université du Québec (541-550). The city is also home to the oldest educational institution for women in North America, the Ursuline Convent of Quebec City. Teaching at universities in Quebec City is primarily in French.
4. Edmonton
The capital city of the province of Alberta, Edmonton is known for its year-round selection of festival is also known as The Festival City. Among universities in Edmonton, the most notable is the University of Alberta, ranked fourth in Canada and 109th in the QS World University Rankings 2019. Other options include the Northern Alberta Institute of Technology, Nor Quest College, MacEwan University, The King's University College and Concordia University College of Alberta.
There are of course many more places to choose from. So you must evaluate everything on specific criteria before deciding to apply for institutions.
Cost of Studying in Canada
Universities in Canada are independent to set their own fees depending on various factors which may include: program, or are you an international student or you're studying under graduate or post graduate etc. According to the reports, the fees of international students in Canada has seen a rise of 6.3% in 2019/19.
Cost of studying Undergraduate in Canada
As per 2018/2019, the average tution fees for an international student in Canada is CA$ 27,159 (US$ 20,600) per year. Fees may vary depending upon the program/course you choose, for example, engineering and medicine course will cost an average of CA$ 30,742 (US$ 23,300) per year whereas business and management courses costs an average of CA$ 26,395 (US$ 20,000) per year.
Cost of Studying Postgraduate in Canada
Again the fees depends upon the choice of your program. According to the reports, the average postgraduate tuition fee for studying is CA$ 16,497 which is approximately US$12,500, as per 2018/19.
Cost of living in Canada
To start with, it is estimated that students will need a total of CA$15,050 per year. It includes housing, food, accommodation, books and course supplies, phone costs and misc expenses. It is also mandatory to take health insurance which is CA$ 864 per year under the BC Health Plan.
Apply for a Study Permit
Now that you have decided for the institution to apply on and made the application, and if the institution is ready to admit you, it is time to apply for the Canada Study Permit.
You can easily apply online or visit your local visa application center. Your application must be followed up by the acceptance letter received previously and your passport, and documentary proof that you have adequate finances to study in Canada.
Tuitions fees in Canada
In general, tuition fees in Canada are moreover less expensive as compared to other major countries (the US, UK, and Australia), but still somewhat higher than most of the other countries. Average tuition fees in Canada for international undergraduate students start at about CA$17,337 (about US$13,350) per year.
Universities in Canada mostly set their fees, and the cost of study also depends on the type of course and the subject one is choosing – tuition fees in Canada for arts and humanities students tend to be at the lower end of the scale, with subjects such as engineering and medicine students among the more expensive.
Financial aid to study in Canada
One should check beforehand about scholarships, grants, and bursaries which all available for international students wishing to study in Canada, at both undergraduate and postgraduate levels.
These may include specific scholarships for sporting and academic achievement, and subject-specific scholarships. You might also be able to apply for a scholarship offered exclusively by the university at which you want to use. In all cases, it's most important to use as early as possible as scholarship funding are always limited and highly competitive. International applicants are also advised to research about study abroad scholarship opportunities offered by organizations in their home country.
Scholarships for studying in Canada
Scholarships for undergraduate students all over the world, in Canada:
Canada York University International Circle of Scholars Scholarship
Prestige Scholarships at Carleton University in Canada
International Entrance Scholarships and Awards at the University of Calgary in Canada
University of Manitoba Graduate Fellowships
Humber International Entrance Scholarships
Scholarships for MS in Canada:
Vanier Canada Graduate Scholarship
University of Waterloo International Master's and Doctoral Awards
Ontario Graduate Scholarship
University of Manitoba Graduate Fellowships
University of Calgary Graduate Awards
Check Out: Undergraduate scholarships in Canada
Top courses to apply
MBA
It has always been one of the top courses to study abroad. The majority of abroad MBA aspirants apply for international work experience, and particularly a decent job in the study abroad destination.
2. Computer Science & IT
Computer science & engineering graduates and software/IT professionals are always highly in demand after, including Canada.
3. Core Engineering & Engineering Management
Core engineering & technology remains a major candidate-driven field. The number of engineering jobs is grown steadily, and lately some 7,050 new jobs are added in 2017 in Canada.
There are various other courses which are available; you just need to decide and finalize according to your course of interest.
Eligibility Criteria
To be eligible for undergraduate programs in Canada, one must have attained at least 50% marks in 12th standard with average IELTS – minimum 6 bands overall with, no less than 5.5 bands in any module.
So, these are the informations which you should keep in mind if you want to study in Canada.
Canada Student VISA
Every year Canada attracts good value of students from India with outstanding academics and a validated entry to the country. A study permit is required to facilitate your entry and further courses , you might want to attend. However, even before you get a study permit, you would require a Temporary Residence Visa. The same is provided by the Canadian Government. Visa Application Centers, across India, facilitate the Canadian Visa.
VISA Fee for Canada
Study Permit for Canada costs INR 7,722 (CAD $150) as per the current exchange rate. The Application is available online as well as offline for you to apply. While making the payment offline, the Demand Draft must be drawn in the favor of High Commission of Canada in Indian rupees. Once you do the payment you'll be issued a recipt which you must keep as a proof.
Documents required for Canadian VISA
Once you get the acceptance from the college, you can then apply for the VISA. Following documents are needed to apply:-
Acceptance letter from the university/Institute
Passport
Proof of Funds
Passport Size Photos
IME (Immigration Medical Examination)
English Language Proficiency Exam Score
SOP (Statement of Purpose)
Other Documents
Transcripts
Diplomas
Degrees
Certificates

How to Apply for a Canadian Study Visa
Following are the steps to apply for a Canada Study VISA:-
Apply Online:
Apply in Person
Pay the Fees
Submit the application along with the Documents
To fill out the online application form, Click Here
To check the VFS service fees Click here
Canadian Embassy and Consulates Addresses-
1. High Commission of Canada, New Delhi
7/8 Shantipath, Chanakyapuri
New Delhi 110 021, India
2. Consulate General of Canada
World Trade Center, 22nd Floor
26/1, Dr. Rajkumar Road
Malleshwaram West
Yeshwantpur
Bengaluru – 560055
3. Consulate General of Canada
SCO# 54-56, Sector 17 A
Chandigarh 160 017, India
4. Consulate General of Canada
Indiabulls Finance Centre
21st Floor, Tower 2
Senapati Bapat Marg
Elphinstone Road (West)
Mumbai 400013
VFS center addresses –
1. New Delhi
VFS Global Services Pvt. Ltd.
Shivaji Stadium Metro Station, Mezzanine Level,
Baba Kharak Singh Marg, Connaught Place
New Delhi-110001
2. Chennai
Canada Visa Application Centre
VFS Global Services Pvt. Ltd.
Fagun Towers, Second floor, No 74, Ethiraj Salai, Egmore, Chennai- 600008, India
3. Mumbai
Canada Visa Application Centre
VFS Global Services Pvt. Ltd.
Trade Centre 5th Floor, Bandra Kurla Complex, Bandra (East), Mumbai – 400051, India
4. Kolkata
Canada Visa Application Centre
VFS Global Services Pvt. Ltd.
Rene Tower, Building No. 1842, Rajdanga Main Road, Rajdanga, Landmark: Near Geetanjali Stadium Kolkata, 700107, India